Exploring Around Ban Phe Beach Road & Linda's Place : Rayong, Thailand (Feb'20)
9 Feb 2020 / I spent one night in Ban Phe at Linda's place near Rayong, Thailand. As well as walk around the beach road and city. Have a look at my pictures and video.
Walking around Ban Phe Beach Road & Mae Rampheung Beach
Walking around Linda's Place
Linda's Place located in a relaxed, rural and friendly area of Ban Phe Thailand, less than a mile from Mae Rampheung Beach, Linda's Place makes a perfect spot to chill out.
Address: 138/8 Bor Luang Soi 5 Wat Nah Rai Street, Ban Phe, Mueang Rayong District, Rayong 21160 | Phone: 064 159 0193 | http://lindasplacebanphe.com/
Watch My Video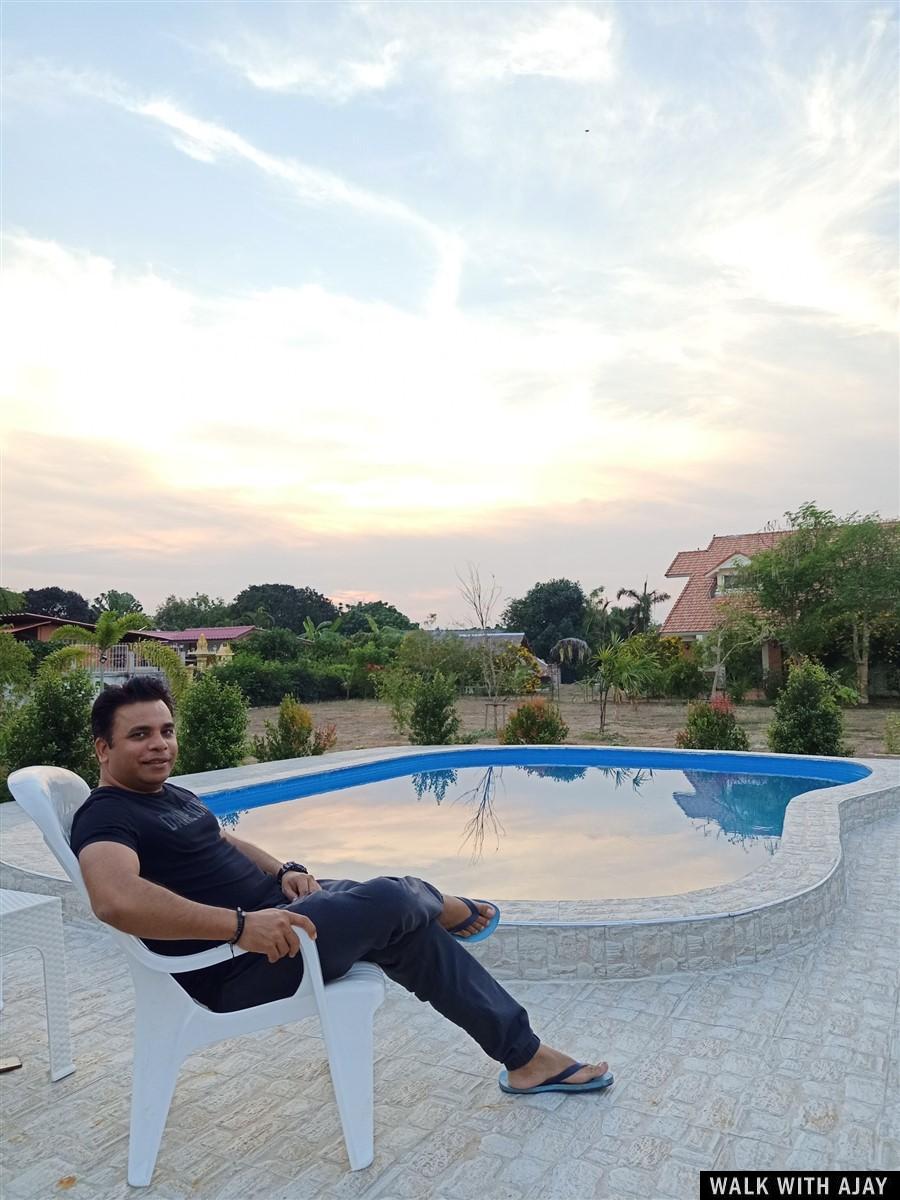 Wander often, wonder always, a perfect relaxing evening!
Dinner at Bee Bee Food
Beebee is the owner and the cook of the Beebee Food restaurant. Her specialty: local fresh thaï cuisine! She will welcome you every day of the week with her french husband Richard. They also serve delicious Italian pizza and some European dishes.
Address: 1184 Jum Rung Soi 4, Phe, Mueang Rayong District, Rayong 21160 | Phone: 086 821 0724
My Walking Story :
Today I am going to tell you about my trip to Walking around Ban Phe Beach Road & Linda's Place: Rayong, Thailand.
On 9th feb20 I did my breakfast at the hotel which was very delicious and included in the hotel charges. The hotel charges per night were 1100 Thai baht. It was a new hotel and superb service was provided by staff members. So I was satisfied with the hotel services.
After breakfast, I get fresh and up and got ready for my way to Ban Phe city. I checked out nearby 12:30 in the afternoon, while the day was full of scorching heat which made me a sunburn. Yet such things cannot stop me to explore the place so I got on my motorbike and went ahead to Ban Phe city. It was around 20 km far away from my hotel which I checked out. So it took half an hour for me to reach over there. But the thing was I haven't done any research on Ban Phe city so I was totally unaware of the place. Ban Phe is a small town and not too tough to traverse.
The moment I reached over there I could not understand where to go as I have not booked any hotel over there nor have any idea about it. So just look around and saw a pier. The scorching heat was frustrating me still continue with my journey. Finally, I decided to Google out for the hotels. On spot, I got the recommendation for a hotel named Linda place. It was a wooden house and was attractive, so straightway grab the contact number from Google and enquire about a place. The owner said that from the location I was standing the hotel was only 2-3 km away from it. Room charges were 1000 baht per night, so I agreed at once and reached the hotel with the help of Google Maps. There is no process for the check-in, all you have to do is to pay the charges. I checked-in and had some relaxing time.
I would also like to describe Linda Place in detail as it was really catchy and family-owned property. The architecture was pretty good. Linda place is located in a relaxed, rural and peaceful area of Ban Phe Thailand, less than a mile from Mae Rampheung Beach, Linda's Place makes a perfect spot to chill out. It shows the Traditional Thai Wooden Homes which have been warmly hand-built from reclaimed Teak and have a double bed, en suite shower/toilet, a fully equipped kitchen and dining area. Along with the air conditioning, Wi-Fi and satellite TV which make me feel like staying home. From there one can take a walk down to Mae Rampheung Beach and enjoy uncrowded white sand or jump on the local conveyor and shot into Ban Phe town center for markets and shops of every variety. I have made a short video on this place, one can check on-page for the same.
Now moving ahead with the day, after a bit relaxing I took my motorbike and following the road. As on my way to Linda's place I saw some local shops in between. I prefer Thai food mostly so I thought of checking that out. At a distance of half an hour kilometers, I found a Thai restaurant, so I had my lunch over there, it was very tasty, to be frank, and then I saw a coffee cafe opposite to it where I shipped a coffee. While returning to the hotel I saw a board showing "Way to the Beach"
So I decided to have a look and turned my motorbike, kept on driving straight to the road. The road ended with a beach and I got to know that this was the main road, that is Beach Road and what I found that there was a number of hotels along with food shops. The beach road was around 3 km long. So this is the benefit of exploring by bike. It takes just half an hour to return to my hotel from the beach road, took the rest of one hour at the hotel and thought of visiting the beach road in the evening which will help to click some nice photos of the place.
Around 6 O'clock in the evening I visited the beach road and clicked some photos of the beach and sunset. It was a very beautiful and soul-soothing environment, so spent one hour over the beach. Now I wanted to see the happening part of this place so by 7 pm I stayed but beach road was under construction so I conclude that the evening over here was not much happening and cannot have my dinner over here.
I moved to the pier side but there also I don't like it while moving here and there I found one restaurant named "BB food" there I reached at 8:30 around and ordered some pizza along with a beer for which you can check my photos as well. I had a good time over there and interacting with local-lights. After spending quality time, I back to Linda's place hotel, roads were a bit silent.
After reaching Linda's place I relaxed and slept. In the morning I prepared my breakfast by myself as I have already shopped out all the ingredients at night time. After having my breakfast I checked out and went to Rayong which was 20 km away to handover the motorbike.
Now from Rayong, I have to go back to Bangkok, to travel from Rayong city to van station it almost takes 45 minutes. So I hired a motorbike person and he dropped me over there. This time I was lucky enough to get the van for Bangkok and reached over there by 5 pm in the evening. This was the end of my trip, hope you liked it.