01st  November 2019 / I visited Pranburi beach road, Khao Kalok Beach & temple including Thao ko sa forest park and Very Good Restaurant.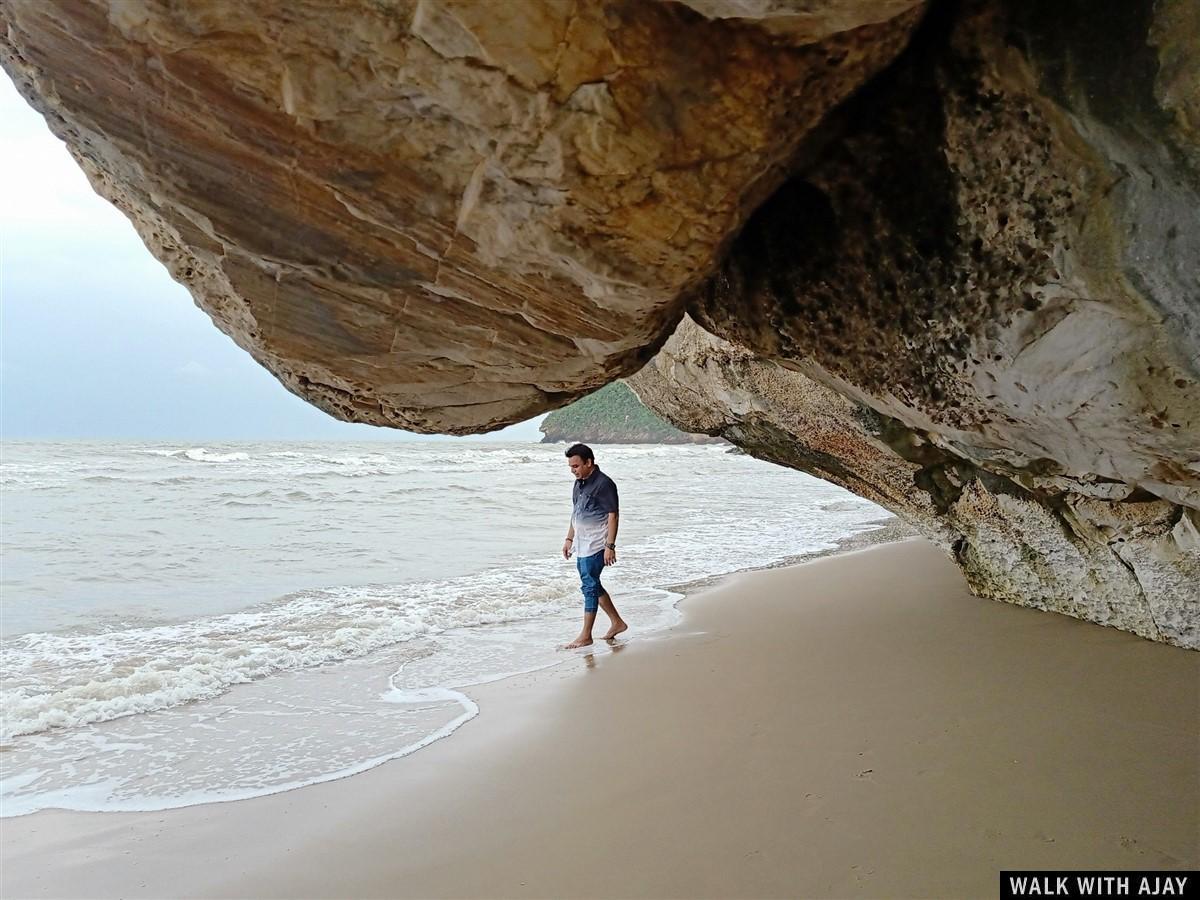 My Walking Story :
Today I am going to tell you about Pranburi Beach which was at 3 hours of distance from Bangkok. I have never been to Pranburi but before Pranburi, a famous place near Hua Hin. Generally, I visit Hua Hin only, it takes 2.5 hours to reach this place. This time I have the plan to explore Pranburi beach but there was a doubt that tourists visit Hua Hin but about Pranburi I have no idea. So it will be worth taking risks or not. I don't want that it comes out to be a quiet place. Well-Renowned for its spectacular sunrises, Hua Hin's main beach is a 4km white, sandy strip that fringe the Gulf of Thailand, including stretches from the town center to Khao Takiap. Since it is never over-crowded, plus lots of family-friendly activities are on offer – the likes of pony rides, banana boat rides, or rent deckchairs also umbrellas for some lazy hours of sun-worshipping in between experimenting the water with your big toe.
While, Pranburi, approximately thirty minutes south of Hua Hin, is an up including the coming beach area on the Gulf of Siam. Though it's not as famous as Hua Hin, or as simple to get to as Pattaya, it offers moderate resorts, beautiful beaches, nice scenes, and a very relaxed environment.
My plan was of 2 nights to stay, firstly I Google everything about Pranburi as there was Pranburi city as well as Pranburi beach road was there. So with the help of Google, I booked one hotel which was 900 Thai baht, for a day I booked the hotel, as for next day stay will see later on. I remember that in the morning I was out at 11 am and reached Pranburi around 2 to 2:30 pm in the afternoon.
Now, the thing was I was unaware of how to go, the Van person dropped me in the middle of the road and told me that this road goes somewhere else, so I need to take some other conveyance. When I step out, I saw there was no conveyance available and my hotel was still 10 km away from that place. There is a motorcycle service available in Thailand just like Auto-rickshaws available in India, similar service is provided by motorcycle services. So at every corner, they were available, if your house/hotel was in a lane, so they might charge 10, 20 or 30 Thai baht depend on distance. Outside on the road car runs but to travel in a lane one required motorcycle service, rickshaws were not available over here.
They have their networks and at every corner of the lane, one can easily find them. They have their proper stand or can say location, so I saw one and asked about the charges to drop at my hotel, he said it will cost around 300 baht, I just giggle and replied that in 300 baht I came from the station itself, but I have no other options so agreed and on my way to the hotel. I was tracking the distance with the help of Google Maps.
The most important thing which I always do when I visit any place was to rent a motorbike, so I have explored at Google for the same and ask the motorcycle driver to drop me at that place. It takes around 25 minutes to cover 10 km distances, so he dropped me at the same shop where I have to rent the motorbike, it was in the middle of my way. I haven't gone to a hotel yet, as first I want to rent a motorbike for a couple of days then I will go to the hotel.
I hired a motorbike for 250 Thai baht/day charge, the owner took the information of my hotel where I will stay and ask me to drop the motorbike at the hotel only while leaving the hotel. It shows the trust of the people which I like the most and their services were also good. The full tank the motorbike and handed over to me, I saw that my hotel was just half an hour far away from that place. I went to the hotel, did my check-in process around 3'O clock in the afternoon, and was very hungry. I recall that at the rented motorbike shop there was a Thai restaurant, after getting fresh and up I went to that place. One can check the photos of that place on my blog.
I had my yummy delicious Thai food and enjoyed it. While near to it there was a place name THAO KOSA FOREST PARK, it was actually a beach place but said to the forest. After done with my lunch I went to roam around the beach at 4 pm, I spent around an hour and clicked many pictures as well. It was getting darker, so I went to the temple name KHAO KALOK, took some photographs. It was a village type of place where fewer shops are available. As I love to explore the nightlife of the places, I asked the restaurant owner about it, he said that around 4 km straight away from this place, I will get lots of restaurants.
I was happy to know that, so before going there, I went to the opposite side to check the place ahead of the temple side. There was nothing much but huge white rocks, cool breeze, beautiful scenario, at least one can enjoy the peace of the place. Moving ahead the road was straight and empty, but there were lots of street dogs I found in Pranburi. I was amazed by seeing that, everywhere there was a group of 5dogs was available, at a distance of 100metres. Then I move towards the second end of the beach as it was getting darker, where I found that it was the main location, a kind of happening street.
There were lots of restaurants, big resorts were built and people doing their evening work out, local shops markets, not a huge crowd. It was a pleasant atmosphere, I love to be there and saw beautiful huts over here. Actually, at midnight the next day was my birthday, so a plan was to celebrate it. So I went to a restaurant name "Very Good Restaurant" had my dinner, drinks and enjoyed the whole night, kind of celebrating my birthday. After having fun the whole night I went back to my hotel and had a good night's sleep!
This was the end of my first-day trip to Pranburi. Do check the videos and pictures of the place.
Hope you liked it!