Exploring in Ho Chi Minh City : Vietnam (Jan'20) – Day 7
4th January 2020  / I spent 2 nights in Ho Chi Minh City and visited Diamond Plaza, Ben Thanh Market, and Walking Street
My Walking Story :
Today I am going to tell you about day 7th in Ho Chi Minh City. Ho Chi Minh City is formally known as Saigon is a hot, loud, vibrant city that rarely sleeps, with a complicated history and lots of cultures to soak up. Merge this with the laughably good-value prices of everything from lodgings to lunch, and there's never been a more suited time to explore this South Vietnamese gem.
In the morning, I had my breakfast which was included in the hotel charges, and went to get fresh and up. As Ho Chi Minh City was a huge place so mostly occupied by malls and markets, previously I have visited in this city around 25 times but it was for official work only, at that time I haven't explore this city as used to complete my official work and back to my place.
My visit to Ho Chi Minh City was after a long time around 10 years. All I can say is Ho Chi Minh City is change a lot. Today, Ho Chi Minh City is a famous tourist destination due to its charming culture, classic French architecture, and sleek skyscrapers as well as magnificent temples and pagodas. The city is also filled with rooftop bars that face Saigon and beyond, while fabulous restaurants offer a combination of French, Chinese, and, of course, local Vietnamese cuisine.
Here my day start, in the morning I went outside for a walk, it was hot weather, I started missing Dalat city as over there it was cool weather, which was totally opposite of Ho Chi Minh City. I called one of my old friends after a long time and luckily he answers my call, we decided to catch up at Saigon Center, it is the name of the mall. It feels great to meet a friend after a long time, we had a good conversation and roam around some places and enjoyed a drink together. Then he left.
I decided to have my lunch after some time, then I remember that my other friend's Indian restaurant is over here, though decided to have our lunch over there. First I ring up to confirm that he was available or not, my friend said that he was out for some work but informed his staff members of my visit to his restaurant. It was a south Indian restaurant named Banana Leaf Saigon. I had my lunch over there and the food was delicious including chicken, I have posted a photo of it on my blog. Banana Leaf is now the top Indian restaurant in Ho Chi Minh City, loved by Indian and western Expats. They didn't take money from me, as my friend told them. In fact, this restaurant was near my hotel.
It was almost 4 pm and over here I don't have a motorbike, I was walking or taking a cab to move from one place to another. After that, I thought of going to the next destination which was Diamond Plaza. I went over there by walking only as previously. Whenever I visit Ho Chi Minh City, I do visit this place so I can say lots of memories are attached to this place. Diamond Plaza was a mall, and as I was walking, feeling a lot of heat and wanted to get inside the mall to feel some cooling. I just had a cool drink, the mall was changed a lot in fashions and its interior as well.
Then I saw a lot of massage parlors out there, so thought of pampering myself, as it is a long time I haven't pampered myself. By seeing the review I went to one parlor but it was occupied for the day, as, I can't wait for the next day as I have a flight back to Bangkok. So I ask the next one but that was also full, then I went ahead to Ben Thanh Market, Here is the city's largest, most authentic market.
You can find nearly anything you need here, from basic supplies to memorials. The food is excellent and the people-watching is fabulous even if you don't buy anything. So there were lots of spa parlors nearby, I went to one of them as asked for today's appointment, luckily I got it and had an oil massage for 2 hours. It was started at 6 pm in the evening and end at 8 pm. After getting a massage, I was literally feeling so relaxed and calm. Kind of refreshing feeling, I was hungry as well so I went for my dinner at Street Food Market. Almost all types of cuisines are available over here including, Thai, Indian, French, Vietnamese cuisine, etc. so I had few Vietnamese cuisines along with chicken tikka which was damn delicious.
I had my proper dinner over there and spent a good time, now it was 10 by night so I went to the Nightlife place which was beside my hotel. One can check the photographs. I just wanted to explore that place and had fun while making a video, I didn't spend much time at this place, and at 11 pm I left the place and went to an Indian temple (south Indian temple) clicked many pictures of the temple as well as of city sight scenes. Then after I came back to the hotel at around 11:30 pm, as I have my morning at 9:30 am flight to Bangkok. This was the end of my day in Ho Chi Minh City, but I loved cherishing some old places and trying something new stuff such as massage. It is a lovely place, do check the photos and video I made of Ho Chi Minh City which is posted on my blog.
Hope you liked it!
Watch My Video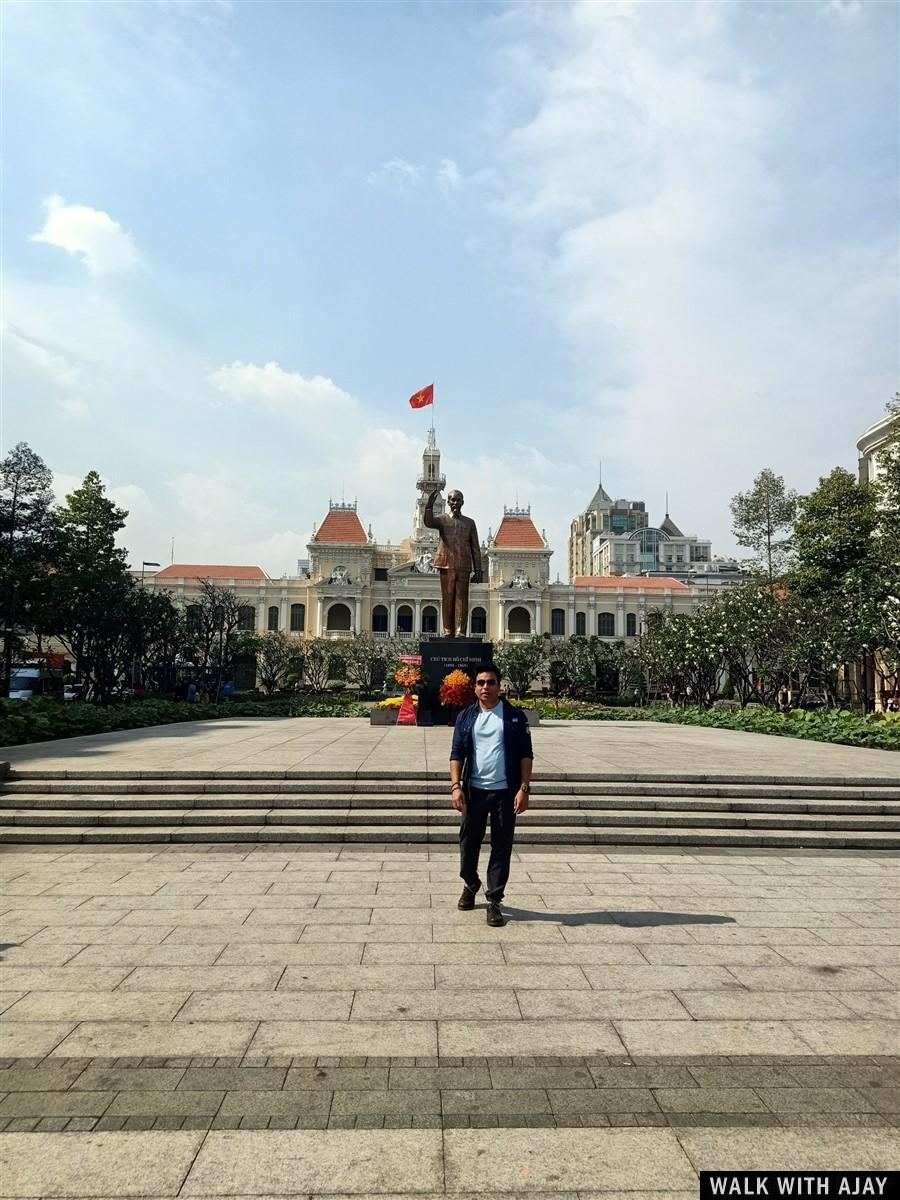 Work, save, travel, repeat.
Banana Leaf Saigon, Indian Restaurant, Ho Chi Minh City
Banana Leaf is now the top Indian restaurant in Ho Chi Minh City, loved by Indian and western Expats.  I had a lunch here and loved it.
46/06 Pham Hong Thai St, Ben Thanh Ward, Dist 1, Ho Chi Minh City, Vietnam
Tel: (028) 6287 4656
Walking in Ho Chi Minh City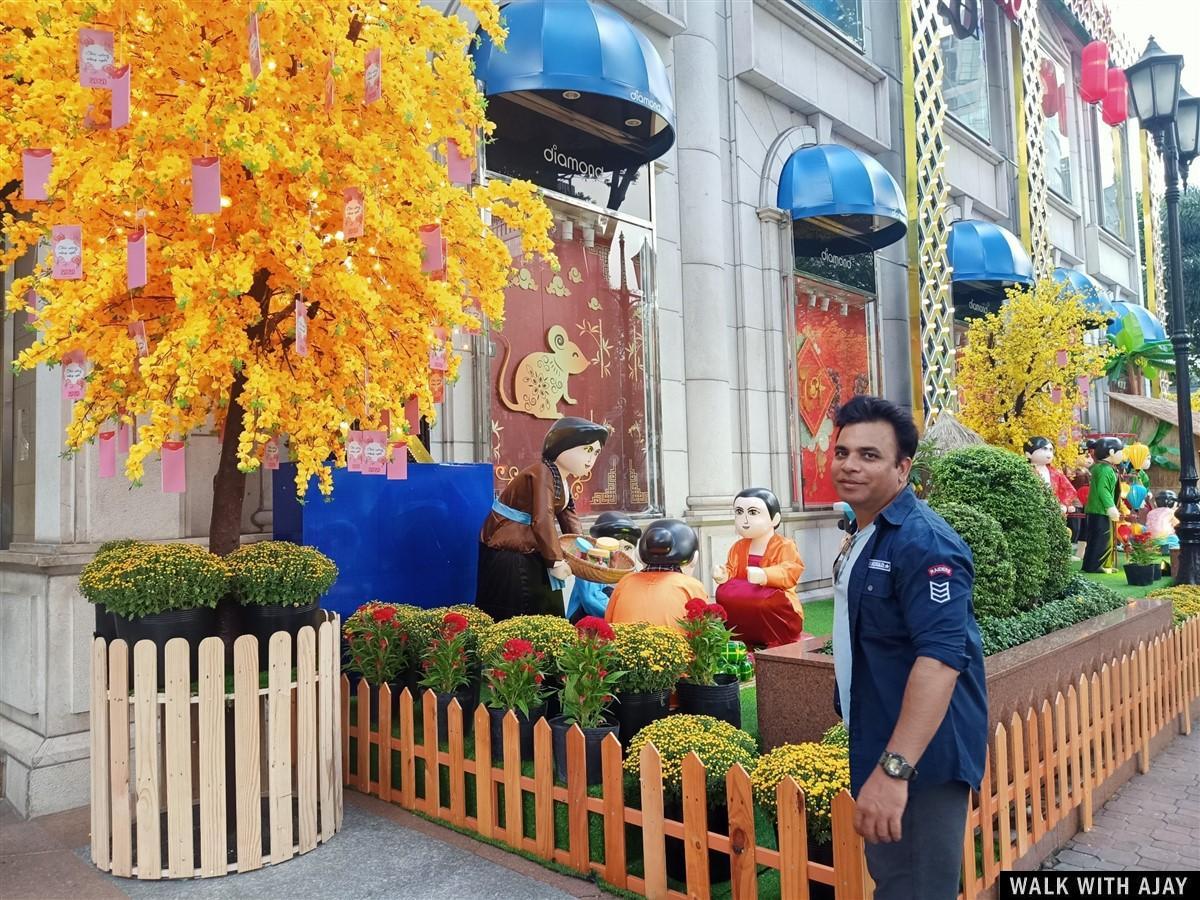 I do believe it's time for another adventure.