3rd November 2019 / Early morning hike to Khao Kalok View Point in Pranburi, Thailand.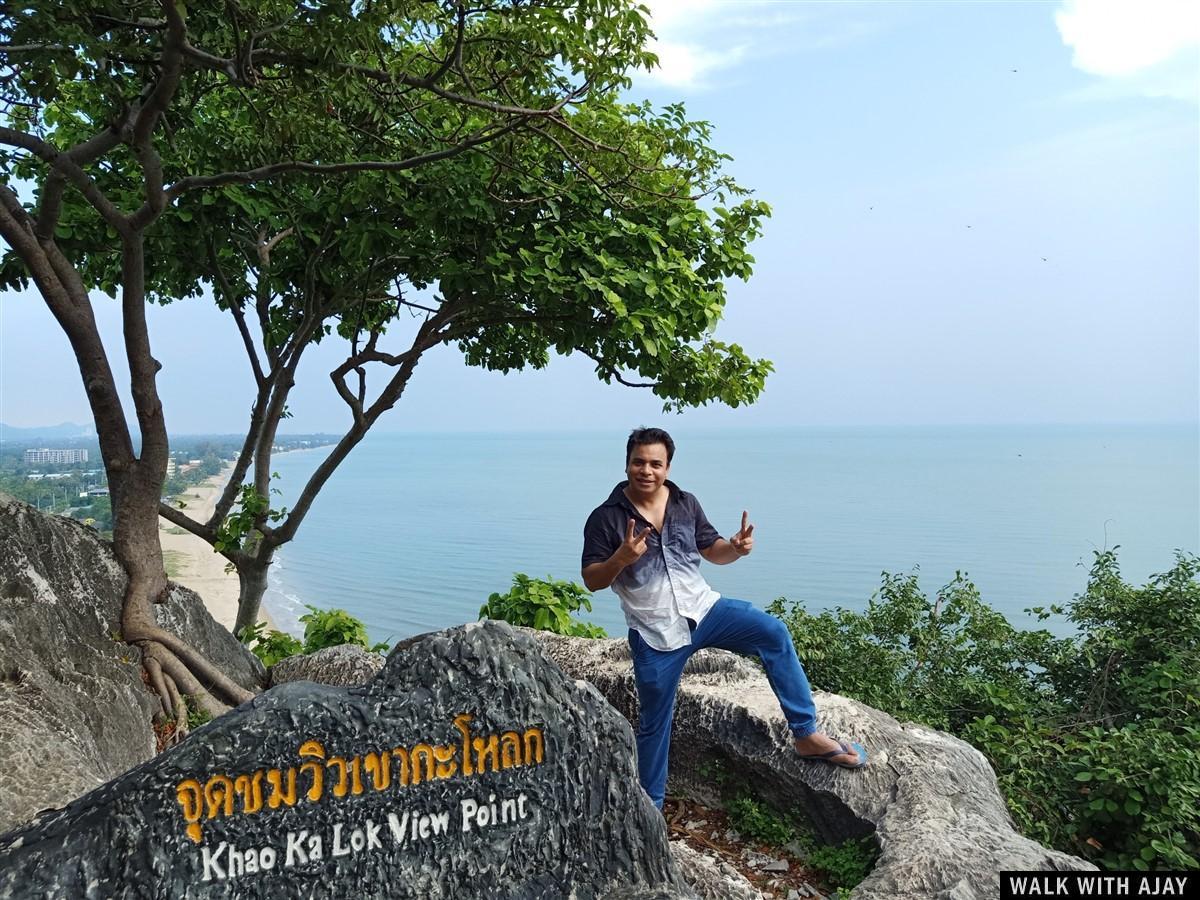 My Walking Stroy :
Today I am going to narrate my hiking experience to Khao Kalok View Point, Pranburi, Thailand. It was 3rd Nov'19. Actually, on this day, I have to return to Bangkok, but near to my hotel, I saw a board of viewpoint from where one can see the whole Pranburi beach and planned to go there. So the early morning I had my breakfast and sharp at 8 in the morning I reached this place. Excited a lot about hiking and reaching the top view of Khao Kalok View Point.
Here is the overview of Khao Kalok Viewpoint: Pranburi, Thailand.
The beach is cleaned and peaceful and coated with light brown sand. In its south stands, a small mountain alike to a skull-Kalok-which is the origin of the mountain's name. Khao Kalok is in the field of the Thao Kosa Forest Park. At its viewpoint, visitants can admire the surroundings of the admirable beach.
Moving ahead with my hiking experience, the moment I was moving, I felt that it was not going to be easy anymore. The mountain range is full of ridges and unexpected rises in heights. It was getting difficult for me as I forget to bring my shoes along with me and with slippers it being tough. Yet I haven't given up and went ahead, the specific person over there told me that within 15 minutes one can reach the top of the mountain.
While it was 10 min, then 15 min and I am walking full of sweat and thinking how long I still need to walk. They have kept arrows so that one cannot forget their way. It was full of forest surrounded by cactus and many more different dangerous plants, rocks were getting huge to pass on them. Somehow I manage to cross half away and thought that it won't be possible to go ahead of this and to get back down then two-person cross me while that way, which motivate me too. So in spite of sweat, exhausting I tried to cross the difficult way and successfully did it. I motivated myself by seeing them as if they can do why can't I? Felt confident at that moment of time.
Slowly I cross the path and finally reach the top view of Khao Kalok View Point. It was tough for me to explain my feelings in words, felt so happy and an achievement kind of feeling was there. You can see the video which I have made during my hiking. The view was awesome like I wanted, calm, clean and can see a wide range of sea surrounding all over. The combination of sea, sun, sand, and greenery was perfect. Clicked as many pictures as possible as can't get enough of the scene. One can see the sunrise here and not too many people, there is quiet and suitable for spent your vacation time here.
After spending quality time on the top, it's time to get down. I choose a different way to go down, you can see in my video. I saw the beach while getting down but the thing is one has to walk at the corner side to reach the beach. It was my first experience walking like this at the corner of the side to reach the beach. I must say that hiking is an enjoyable exercise. There are numerous health benefits, no matter what age you are. If you like to walk, why not expand your boundaries by walking on a trail? As you walk down that trail, you may confront wildlife and birds you wouldn't see elsewhere.
It is also an educational adventure for the children, who learn about not only the natural beauty of the world but get physical exercise and pure air to keep them healthy. As adults, we can set a good standard. It is much more enjoyable than sitting inside doing computer or video games all day!
This was the end of my hiking experience and exploring Pranburi, I went back to the hotel got ready and completed my check-out process, went back to Bangkok. Kindly check my pictures and video to know the beauty of the place.
Hope you like it!