02 November 2019 / I visited Pranburi Old Market on 2nd November 2019 (Saturday Evening).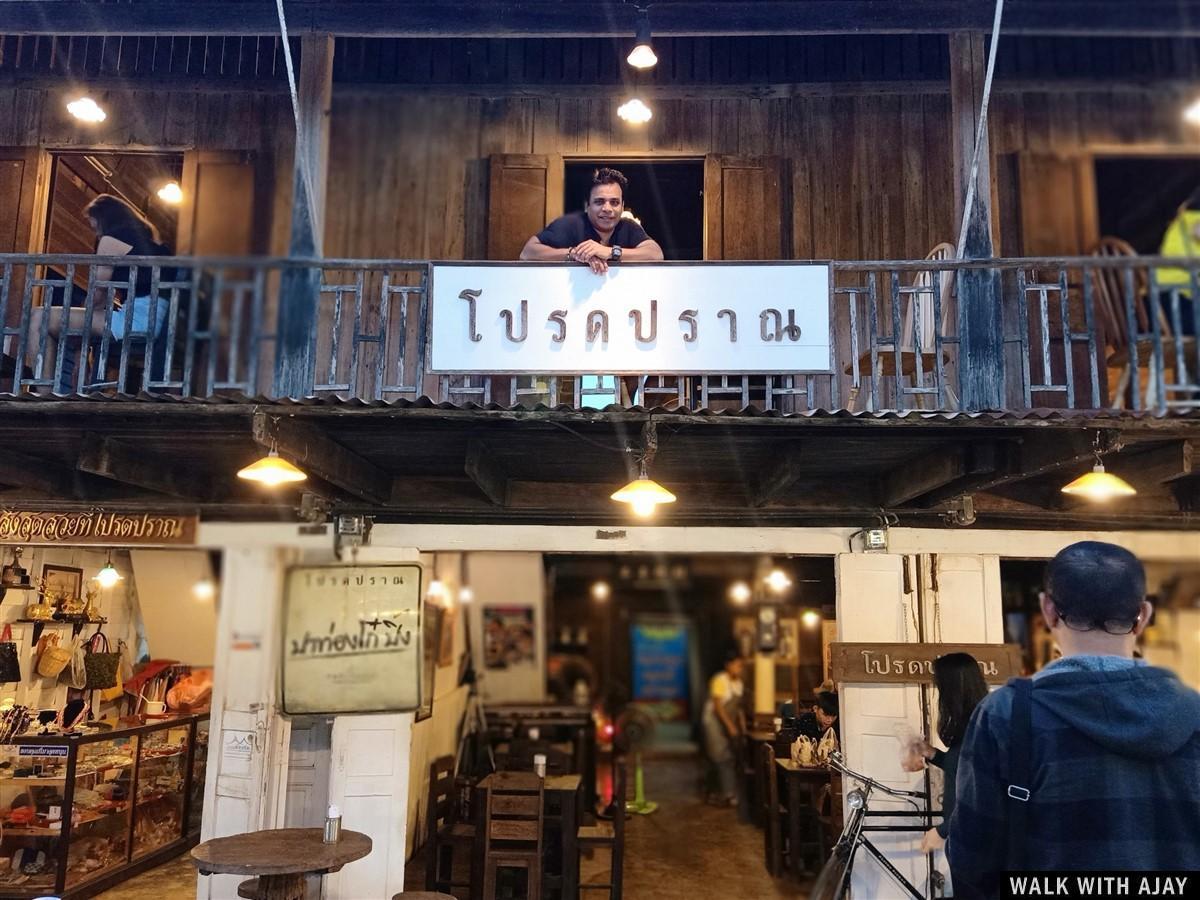 My Walking Story :
Today I am going to tell you about Pranburi Old Market, Thailand. Let me tell you that Pranburi Old Market Walking Street is more than 200 years ancient including its local style is well maintained. All Saturday, the walking street opens near Pranburi Old Market. The area comprises wooden houses, cafes, and famous restaurants. The center consists of shops, souvenir shops, a tourism bookstore, as well as delicious food. Luckily it was Saturday of 2nd Nov 19, I visited at around 4:30 pm to this place, while this market gets closed by night at 10 pm. The all-over Pranburi people use to visit at Old Market, use to shop out, hang out, ship some coffee, etc., and spend a nice time over here.
When I visit this place, I can feel the retro ambiance of the ancient market. In addition to the attraction of its antiquity, the food here is also great. There are numerous legendary sweets which people may not know before such as snacks called Rangrae, Raerai, Kratong Thong, mung seed rice-crepe, Poorman pancakes, steamed rice-skin dumplings, or different delightful food such as Miang Kham, sticky rice dumplings, Jab Mai, fishcake, Chinese roll noodle soup, fish maw soup, etc. Few are wrapped with banana leaves and some are enclosed with lotus leaves. Some are shaped into tiny pieces plus they are not expensive. I explored the whole market built within 2 km of the area and I enjoyed all stalls of my left and right-hand side selling different pieces of stuff including clothes, eatable items, home appliances, etc.
For the first time, I had experience in "Tang Chiangwat" which means the upcountry market, while I have made a video on it and capture numerous pictures of the place. One can view my video to see the beauty of the ancient look of the market.
Even one can see in the video that at one stall I taste boiled corn which was mixed with some spice, cream, oil, and sugar. It was yummy, the atmosphere was lovely and people roaming from here and there checking out every stall. Everyone was nice and friendly over here, which makes me like this place more. It's just a great walking street with lots of things to see- old including new, plenty of food to sample or look at the old buildings along the strip. It's not your ordinary night market as it is geared for the locals. One can find almost everything in this market, with good music and there was one stall of wine bottles along with sparkling lights which were catchy.
The Pranburi Old Market is a place where one gets everything in almost at a low rate and you can see that in one photo I am sitting and enjoying the view of the market, actually, that was the place where I was having my coffee and enjoying the overall scene of the market, observing everyone. It feels really good. The coffee shop was built in an old-style Thai house, which was giving me retro vibes and a relaxing mood. I spend a nice amount of quality time exploring everything about the market. It was fabulous to be here, I can't wait to visit next time. The most loved thing was the old wooden shop houses sell beautifully preserved antiques and typical souvenirs, in a true Thai style. So this was all about the Pranburi Old Market.
I hope you liked it!