30th December 2019  / I visited Vinpearl Nha Trang in Vietnam for the whole day and enjoyed lots of activities. Just captured some short video's around the Vinpearl.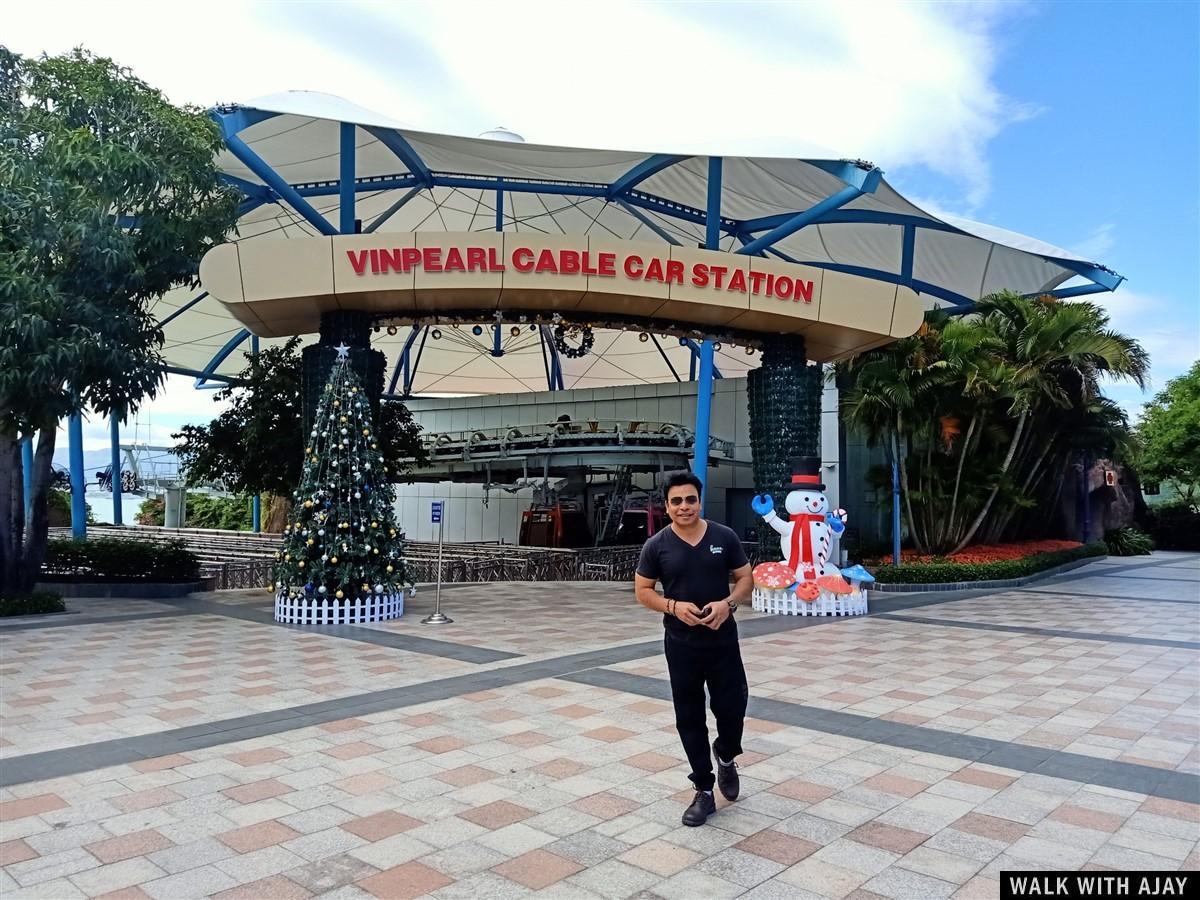 My Walking Story :
Now this story is of 2nd day trip to Vinpearl, Nha Trang Vietnam. I was in Nha Trang, it was 30th Dec19, and decided to visit Vinpearl.
Vinpearl Amusement Park, located on an island opposite the bay from Nha Trang Beach, is a giant-scale theme park highlighting water slides and games, a huge aquarium, a wave pool, and a variation of rides. The Park is led by a cable car that connects Nha Trang City to this island hotel. The 3,320-metre long ride offers dazzling views of the bay, a promise of the enjoyable-filled day that is to follow.
One can purchase a ticket from the hotel itself as every hotel sells the tickets, so I buy the ticket. Generally what people do is they visit over there in the morning at 8 am and return by an evening around 8 or 9 pm.
I decided not to go in the morning as maximum people prefer to go in the morning that includes lots of rush for the cable car. So I always follow my regular routine which includes morning breakfast, checked some official E-mails, and had a shower. While the breakfast was not included in the hotel charges, so I went down for that, there were lots of local food shops around the hotel in the lane. I had a mouth-watering cheese sandwich and coffee which was best and affordable. Then back to the hotel and got ready to go for the cable car station. Step out of the hotel at around 12 in the afternoon, took the taxi, to reach the cable car station it takes near 15-20minutes. There was no rush so straightway I went into cable car after verifying my ticket and went on my way to Vinpearl Amusement Park. I was damn excited to explore all the rides and the island.
One of the highlights of every visit to Vinpearl Nha Trang is the 3.3 km cable car journey to the island. The scene of the turquoise water opposite the Nha Trang Gulf, seen from 100 meters up, only gets more enjoyable the farther out you go. The cable car ride is also attractive in the evening when its nine pillars are lit up in neon lights. Tickets for Vinpearl Land Nha Trang are usually VND 800,000 per adult and include the cable car ride as well.
One can check the map also to get an idea of the park and cable cars which are posted around. The park includes almost 40 to 50 activities that were included in the ticket itself, no need to pay any extra charges for any particular rides or shows. This was the best I like it.
It's difficult to try all the activities available over there, I tried 4-5 activities over there in the park. Vinpearl Amusement Park includes resorts as well named Vinpearl resort and it was a large 5-star hotel. If anyone wants to escape from the bustle and enjoy some 'me' time at the spa in Vinpearl Luxury Nha Trang. Set on a private beach, each spa bungalow is constructed over the water, allowing a gentle breeze and the sounds of the waves to calm spa-goers into deeper relaxation.
Now it was lunchtime, so I went to have some burgers and drink for which you need to pay, as lunch wasn't included in the ticket expense. Moving ahead I saw many activities, the attractive ride has lots of waiting as everyone wants to try them. Even I tried many from which was Train Riding. I got ready for this exciting ride and for a memorable adventure in this amazing amusement park. You can check out the video which I had made. The entire park was so huge with plenty of rides and activities for the whole family one can visit.
I would love to describe a few activities which were eye-catchy. An amusement park without a Ferris wheel? Scaling up to 120 meters, the Sky Wheel at Vinpearl Nha Trang is the highest in the country. Sign up for a spin on this iconic fascination for sweeping, bird-eye glimpses of the whole Vinpearl Land and Hon Tre Island.
The next one is for Plant fanatics, they will find a paradise that awaits at Blooming Hill (Đoi Van Hoa). Located at the greatest point of Vinpearl Land are five modern greenhouses made of glass. Each one contains hundreds of plant species from all over the world. Step inside and be welcomed by isles of waving tulips, lavender, and more.
One of the most innovative features at Vinpearl's water park is a 4,200 square-meter Splash Bay – the biggest floating bay in the world. Set on a pleasant beach, this floating charm is a fun place to hang out with friends, swim, sunbathe and relax.
I have posted many more pictures of the activities you can check on my blog. Now, what happens I planned to come back at around 8 or 9 pm so that I don't have to wait in a queue but one has to get out of the park at 9 pm only, it gets closed? There was a huge queue for cable cars, so I have to wait for almost 45 minutes for the cable cars.
From the park, I came back at 9 pm and this time I hired a motorbike, they dropped me at my hotel. So I had my dinner near to my hotel only and in between having my dinner and roaming around here and there, it was 12 by night. The next day I have already planned for Dalat so I asked the hotel staff to book a van for me for the next destination that is Dalat. Finally, I went into my room and had a nice sleep after spending such a wonderful day. This was the end of my 2nd-day trip.
Watch My Video