04th June 2018 / Started the hike in the morning 9 am and finished 4 pm. It's a difficult and dangerous hike during rain.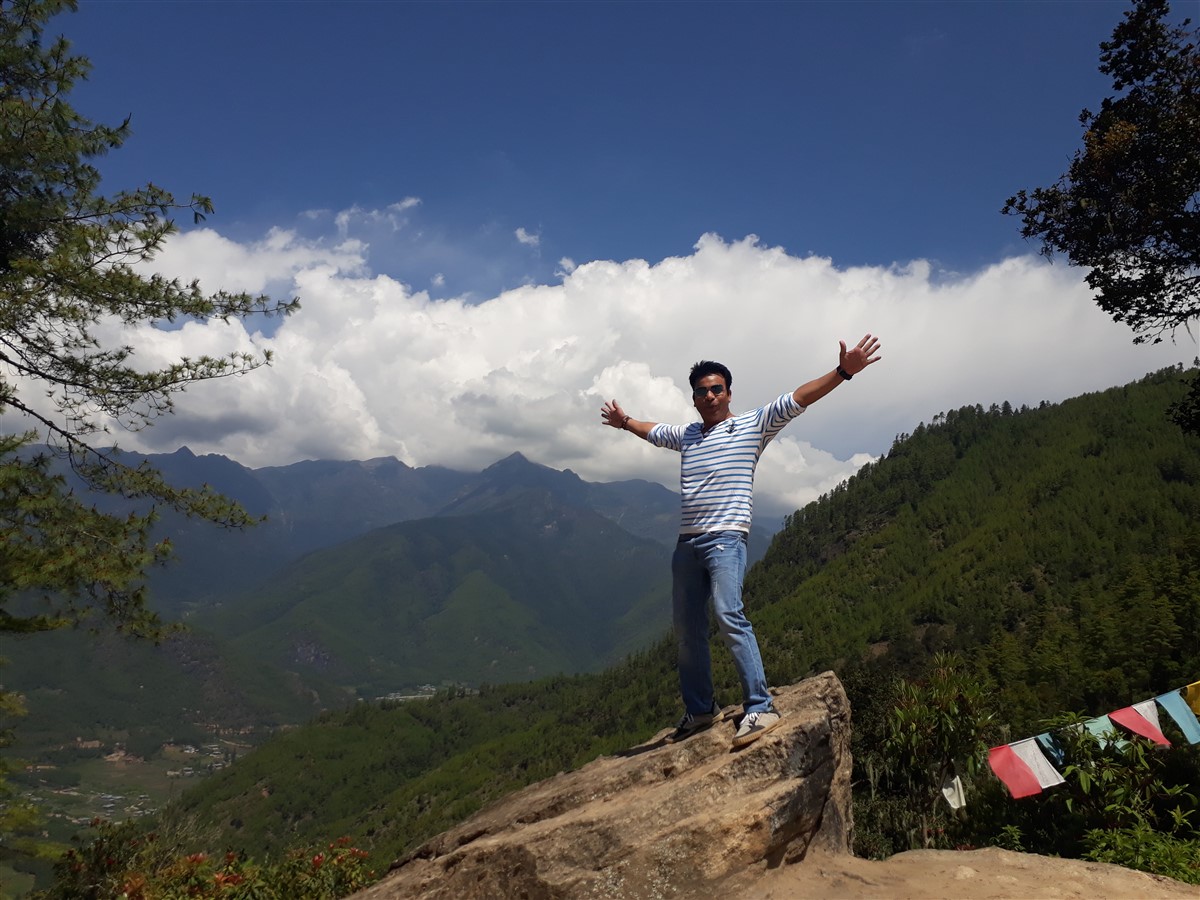 Paro Taktsang "Tiger Nest"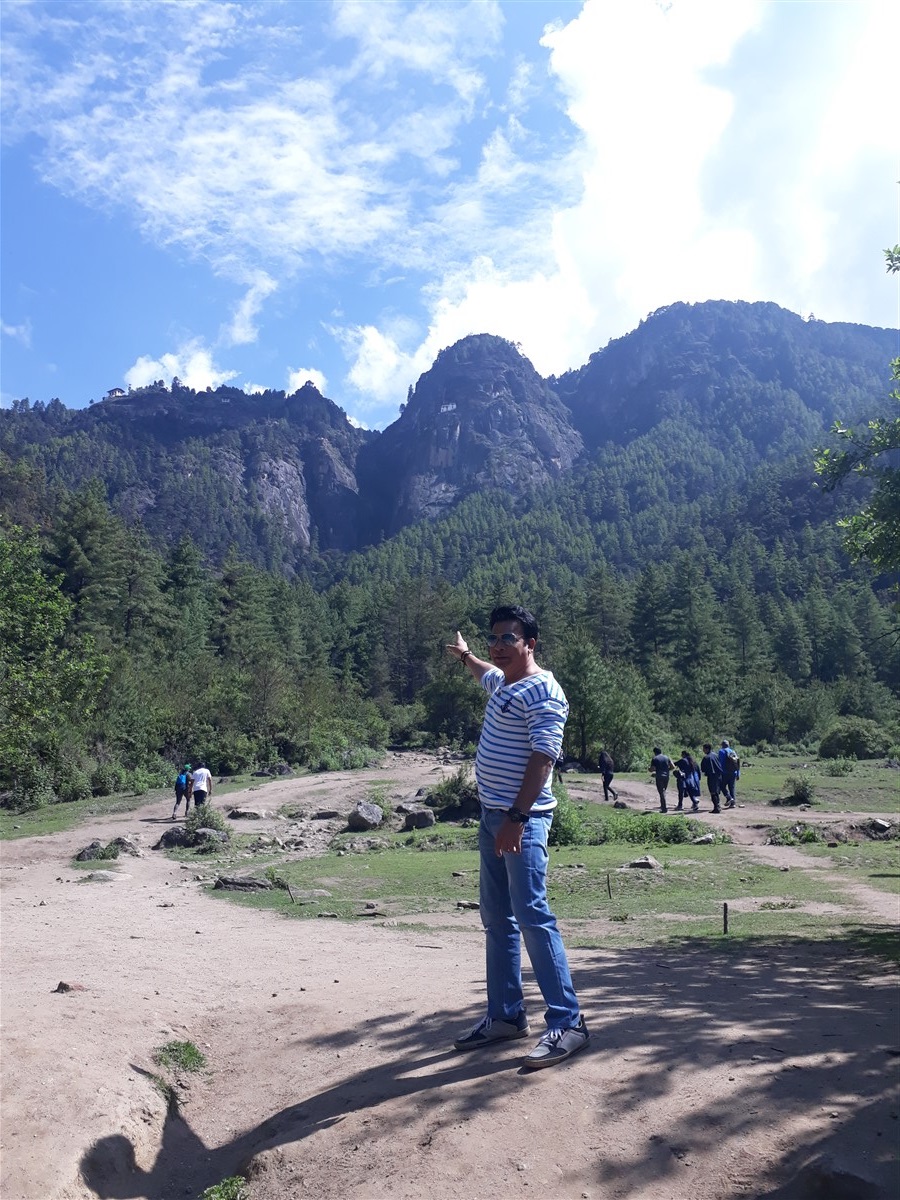 My Walking Story :
In this story, I am going to explain to you my fourth day at Paro Taktsang "Tiger Nest" in Bhutan. From the hotel where we were staying, we can easily view the airport, so whenever planes were landing on the run track, I can see them, which was an awesome view, cannot express in words.
Anyways our fourth-day plan was to visit the main attraction destination which was "Tiger Nest". One must do hiking at Tiger Nest, and I tell you it is not at all easy, one must walk around 2 kilometers, and for the old person its a tough thing to try even. The local people have practice but people like me who never tried this were going to be adventurous and fun. I and my friend's family were done with breakfast and got ready, the process towards Tiger Nest at 9 am in the morning.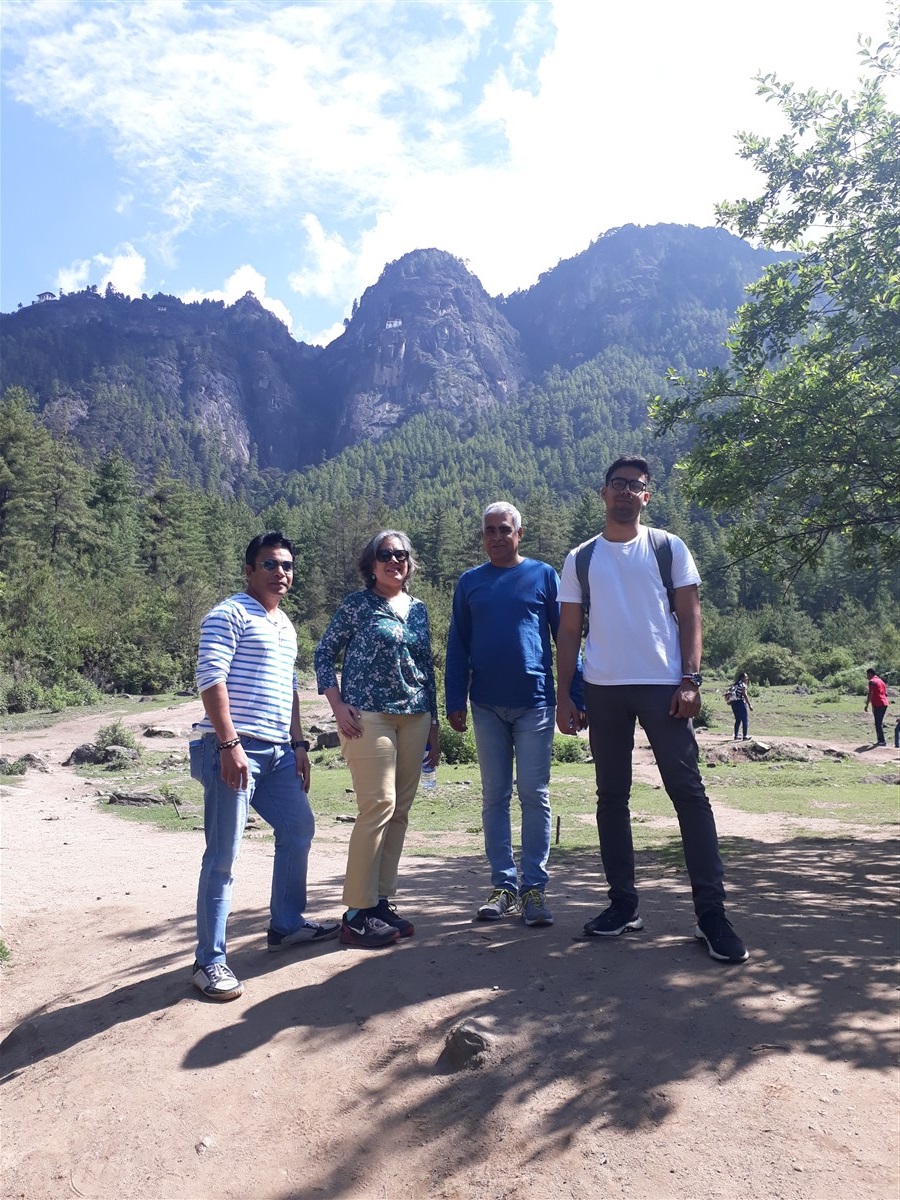 One can see my photo where I am pointing out my finger that we must walk to that distance. Because of the location. the only way to get to the monastery is by hiking and the moment we started hiking, first, it seems easy but a little after it was getting tiring as the path was uphill to the entire way. It was dangerous if it's raining, I still remember that one traveler was walking and suddenly he fell from upside, My God! his bones got a break and local people took him down on a stretcher. One must be very cautious during hiking and be focus on the way of the foothill. I have capture photos of every single scene during the walk.
For lunch, a restaurant comes in between the way before reaching Tiger Nest, at this place all the tourist takes a stop. While tourist has their lunch and does some rest, also there are no transports that make the drive up to the monastery. But, for those who cannot hike the complete way, they can hire a horse to carry one most of the way there. I guess hiring a horse will make the hiking more difficult as the path was not good and horse walk one knows, the one who sits on a horse for the ride has to tightly hold onto, otherwise the risk of fall down was there and also they will drop at 2-3 kms only. then from there, one must walk themselves.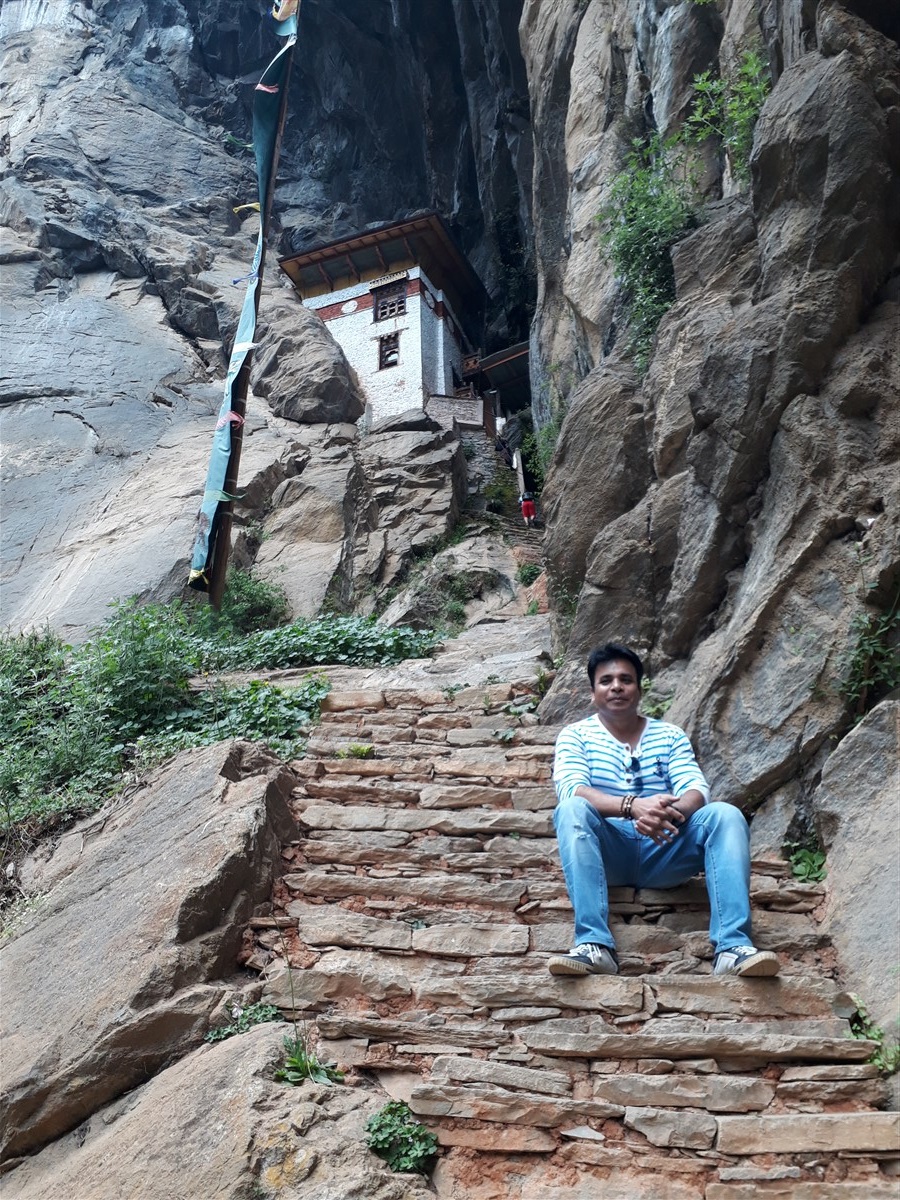 We must walk through the narrow passage of the mountain which was risky. While the entire distance walked is about 4 km one way with 700m in height gained and the tracks to the Tiger's Nest Monastery is a broad, dirt trail. It is skyward the entire way yet not overly steep. It's certainly doable for most people, just be prepared to use one time.
The journey up to the cafeteria, which is at about the midway point, takes most maximum people between one and two hours. Beside the way, you will cross under tons of prayer flags. I appreciated the views over the valley as I was getting higher. The scenery just keeps becoming better. So, we all did our lunch over there in the restaurant and move ahead towards Tiger Nest. While I would like to describe the history of this place, the history of this divine place goes behind to the eighth century when Padmasambhava, an amazing saint who established the Mahayana school of Buddhism, toured the site. He felt the terrifying form of Guru Dorje Drolo and cleansed the place of sinister spirits to protect the integrity of Buddhist teachings.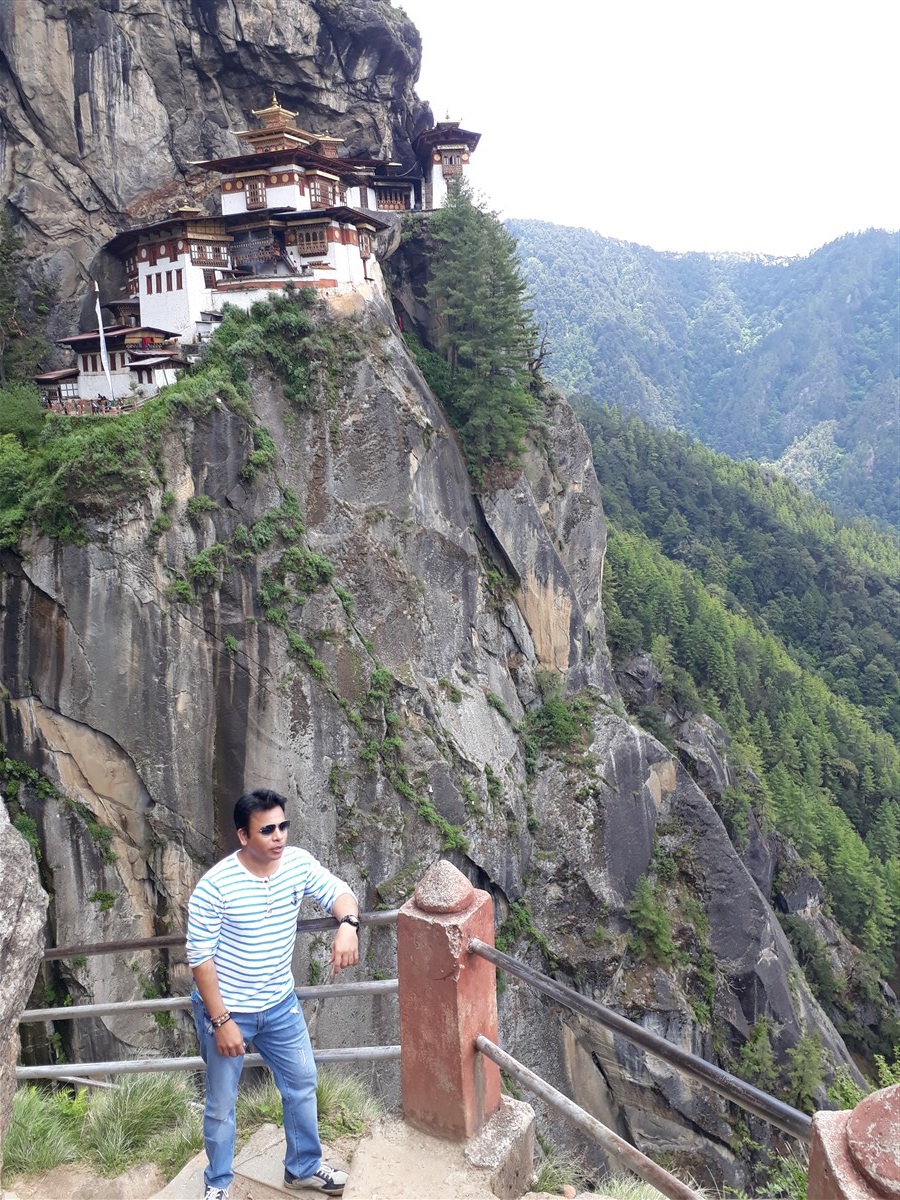 A story has it that Yeshe Tsogyal converted herself into a tigress also carried the Guru on her back from Singye Dzong in eastern Bhutan to Taktshang. In a cave there, the Guru then conducted meditation plus emerged in eight incarnated forms (manifestations). while at Taktshang the Guru declared the Mandala of Pelchen Dorje Phurpa and gave sublime teachings to his disciples. He contributed four months in the cave, taming plus subjugating the wicked spirits, and hidden profound treasures for the good of conscious beings.
So, in order to see this divine place and experience hiking, this is the must-go-to spot for the tourist, it is the coolest place of Bhutan. one cannot go back without exploring Tiger Nest.  We reach the monastery; it has an awesome view and a kind of peace was there. While returning I was afraid that it might not get rain and that exactly happen. It started raining and it was heavily raining that we must stop somewhere in order to protect ourselves from rain. When it stops, we started walking again but the path was slippery and that was time the major incident took place, many people slip down, and my friend's wife also slip and feel bad.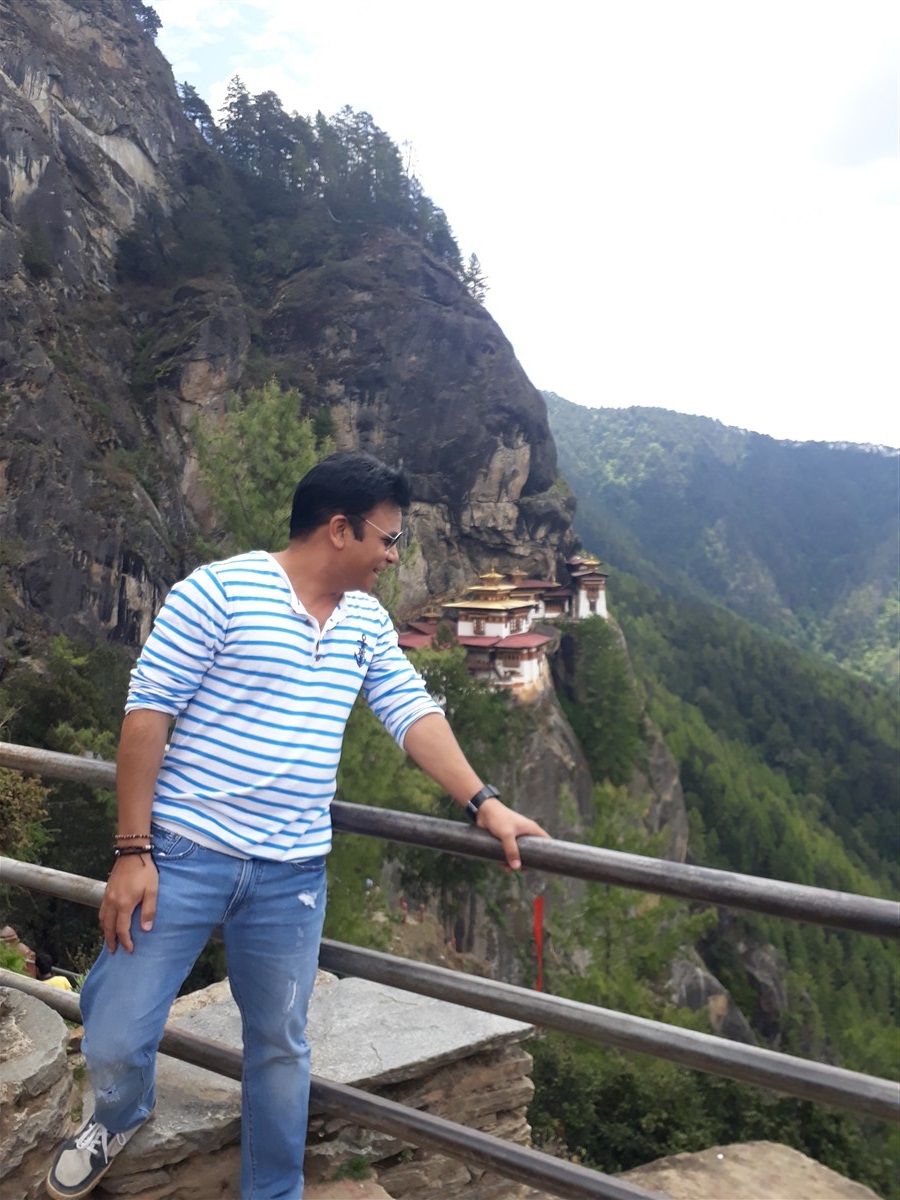 She was an old age lady and it was inspiring that she completed the hiking but still, she got hurt after falling, now she didn't realize but later at the hotel she started feeling the pain. She took rest and medicine as well. We all step down carefully after that, it was evening since we have started hiking in the morning, and then after went to Paro's local market. The local market was good enough to purchase all the required stuff and then we came back to the hotel for dinner. We all were tired because of hiking so after having a small party at night we went to sleep. It was an adventure plus an awesome day. Thank you!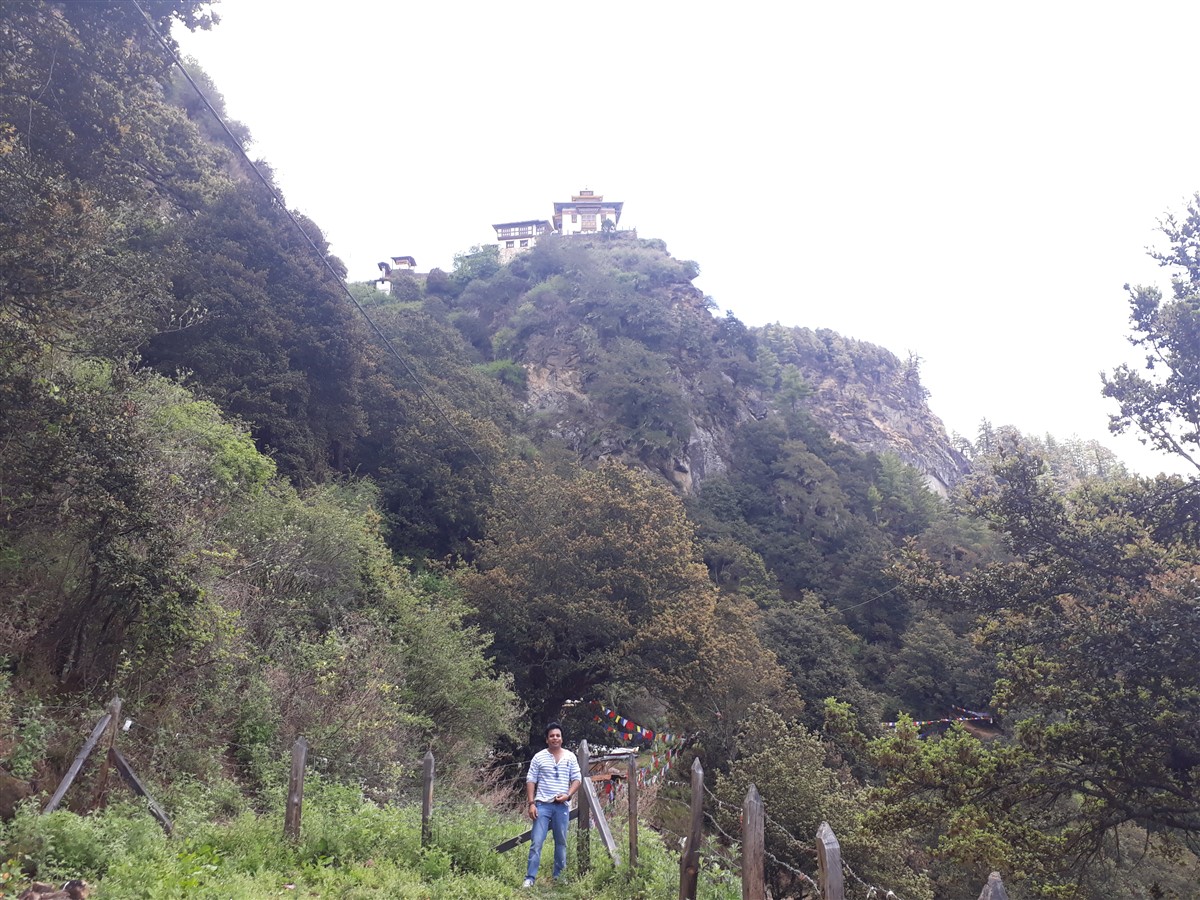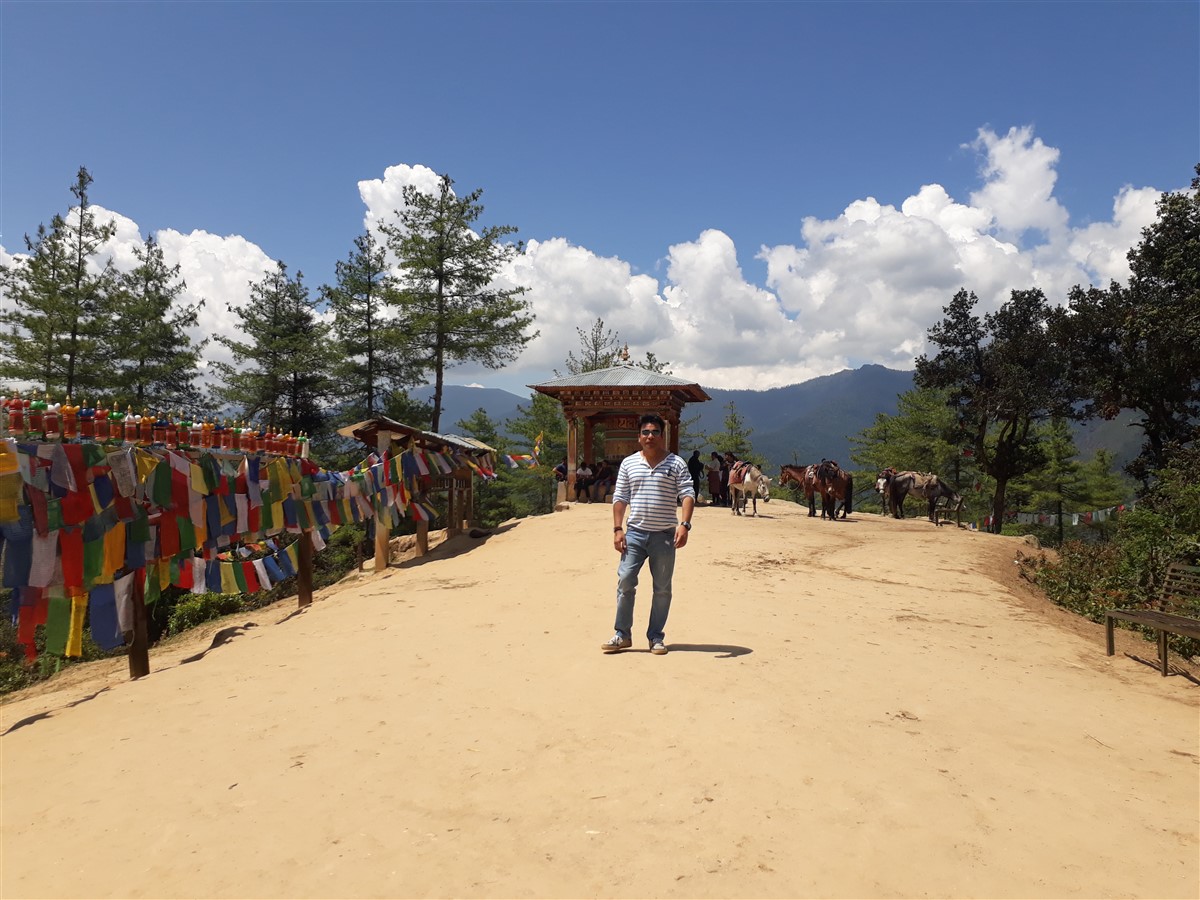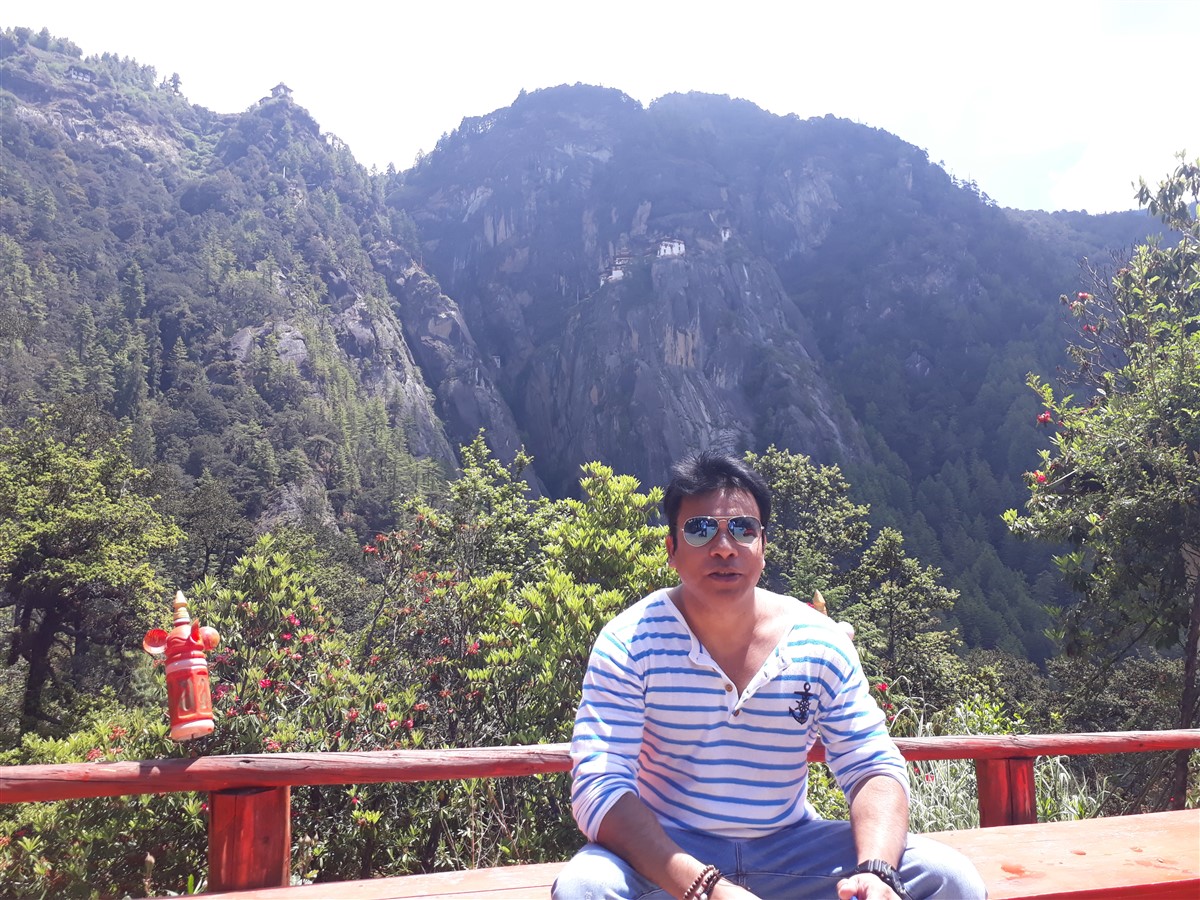 During hiking to "Tiger Nest", my guide helped to take this shot. This is my favorable shot like a free bird and wants to fly.