30th December 2018 /I visited Bali, Indonesia to celebrate new year's eve. During this trip, I stayed in Ubud for 4 nights.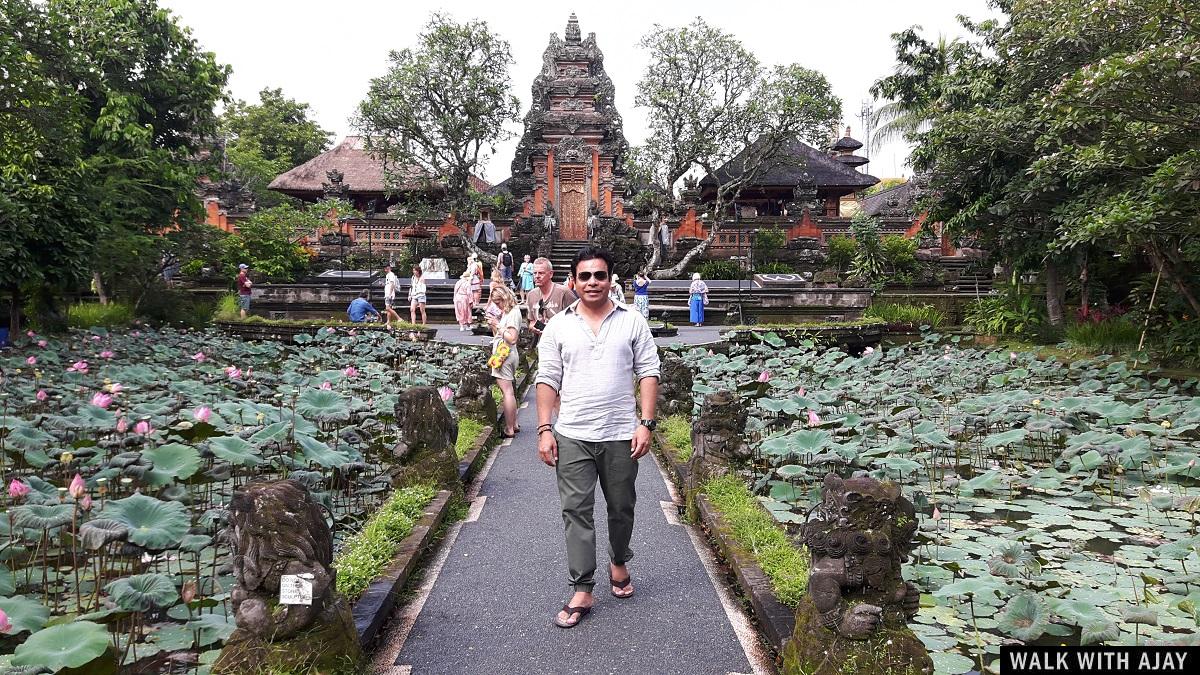 My Walking Story :
Today I am going to tell you about my Bali trip day-1 in Indonesia. I was planning long to visit Bali Island which is in Indonesia. I had few reasons for this as  Bali is Indonesia's largest including the most famous visitors target place plus continues to attract thousands of tourists each year with its highly detailed art, history also leisure scenes and the second reason was that Hindu culture relates to it through mythological story Ramayana.
Anyhow, I wanted to visit that place, still, there are few places in Bali that follow Hindu mythology. I planned to celebrate my New Year over there, so on 31st December'18, I visit Bali by booking my ticket from Bangkok to Bali. There are numerous islands available, so I decided to visit Ubud Island for four nights and to explore all the nearby places at Ubud.
Ubud is in many ways Bali's cultural heart. It's in the cool mountains, just an hour's drive north of the airport. This traditional country town is home to one of Bali's royal families. Ubud is also well known as a flourishing crafts center. The surrounding Ubud District's rainforest and terraced rice paddies, dotted with Hindu temples and shrines, are among Bali's most famous landscapes.
Let's continue with the trip, I remember that my flight was of the night from Bangkok to Bali, and I reach Bali's airport around 1:30 at night, while for Indians visa was provided on arrival, so I got my visa and I had already booked a cab. After completing all formalities and customs at the airport, I sit in my cab and went towards my hotel location. I reach a hotel at 2 am in the night and went to sleep, this was my travel history of visiting Bali.
While my first day starts the next morning, I woke up around 9 am in the morning because of the late sleeping schedule and after getting fresh I went to have my breakfast. I had uploaded breakfast photos on my blog to check them. It was delicious food and I always plan a list of things before traveling to any place, just I don't plan the timings. And the place where I was staying was known as Bungalow in Ubud, its proper name was Puri Saraswati Bungalow. The architecture of the rooms was amazing and for every room, there was no name, instead, each room has different names such as my room name was Pandu in that bungalow. This was something new for me to know about it.
The greenery environment along with its wonderful architecture work was appreciable and loveable, I like it a lot that I wish to visit over there but to different islands. One sees the architecture work made on the door and all over the house was beautiful. The first thing I ask for hotel management to help me out is to get a rental bike for the days I am going to stay over here.
I went into my room and took a bath, while after getting ready I plan to go to Monkey Forest which was most popular in the city, but I don't have any idea exactly where it is, so I took the help of Google map and follow the path accordingly. One can see the photo of my bike as well. The moment I visit Monkey Forest I saw several monkeys over there and they use to sit on a person walking on the path.
One must be careful at that place, while the Ubud Monkey Forest lies within the village of Padangtegal, I was feeling happy and observing everything with lots of fun. The bike riding was one of them, in the Monkey Forest there were many sculptures of monkeys one can see, different actions and face making stuff of monkeys' people were enjoying, because of hot weather I was full of sweat. I have clicked a few pictures at this place, and it was a peaceful place surrounded by nature.
I spend nice quality time over there and then thought of having lunch, I remember that during traveling to I saw one Indian restaurant in the way name Roti Daal. Straightway I visit that restaurant after done with Monkey Forest place, I tried local beer along with food, they have some buffet kind of arrangement in which they change the menu every day, so one can order accordingly based on price. I ordered rice along with three different sabzis or gravy one can say along with beer. I love the food; I also had a word with the owner of the restaurant, and I guess he was born and brought over there only.
After done with lunch, I went to Pura Taman Saraswati Temple, Ubud at 3 pm which was within walking distance from this restaurant. The architecture was wonderful, and it was a mixer of Hinduism along with the culture of Indonesia. There was a lotus flower on both the side of the path, which was giving a beautiful view of the temple, it was a lovely place to see and I spend one hour over there.
Took lots of snaps and you can check it on my blog. After that, I went to my next destination which was Goa Gajah Temple and was also known as Elephant Cave in Ubud. It takes 25minutes to reach the place, that was my evening place and such place get closed by 6 in the evening, so before that, I reach over there and clicked few pictures with the local people. One old lady did tilak on my forehead which makes me feel blessed and I also purchase a few small things from them, which help to get some money and I also like the statues over there.
Till the time it was around 7 in the evening and there was a cultural dance in the evening name Joged dance in Ubud at Pura Taman Saraswati Temple, and you must pay 80,000 IDR per person. In that dance show, they depict history just like Ramayana along with dance performance. The local performer dance and the lighting were nice, it was ongoing for an hour.
It was 31st Dec'18 and decided to celebrate my new year so went to a hotel to have an Indonesian dinner and drink, while I move on my bike to explore the island as far as I can go without the help of google map, it was an amazing day for me and I remember that I was in a club enjoying few drinks and dance along with the music after long drive till 1 is of the night. This is how I celebrated my New Year by enjoying everything which includes food, drink, dance, and music. I had lots of fun. This was the end of day one and I hope you like it
Puri Saraswati Bungalow, Ubud

Room Name "PANDU" instead of room number at Puri Saraswati Bungalow in Ubud






Monkey Forest, Ubud
After Breakfast, I went rented a motorbike for 3 days and start the trip. My first destination was Monkey forest. The Ubud Monkey Forest lies within the village of Padangtegal, which owns it. The village's residents view the Monkey Forest as an important spiritual, economic, educational, and conservation center for the village. There are many of point of interest that you can see here. Other than around 700 monkeys, you also can see 186 species of trees in 12.5 hectares of forest, where will allowing you to get an abundant of fresh air.




















Lunch at Roti Daal, Ubud
This is newly opened pure vegetarian Indian restaurant in center of the city and near to hotel. Tried some home made dishes and 2 types of local beer. 🙂




Pura Taman Saraswati Temple, Ubud
Then we visit to this beautiful temple. The temple is a great stopover along your leisure walks through Ubud town, offering sightseeing and photo opportunities with its classical Balinese temple architecture and a beautiful foyer featuring ponds filled with blooming pink lotuses.






Goa Gajah Temple – Elephant Cave in Ubud
Our evening destination was Goa Gajah Temple. Located on the cool western edge of Bedulu Village, six kilometres out of central Ubud. But easy to drive by motorbike and with help of google map location. Goa Gajah 'Elephant Cave' is an archaeological site of significant historical value that makes it a special place to visit.












Joged Dance, Ubud
Watched Evening Cultural Show at Pura Taman Saraswati Temple, and you have to pay 80,000 IDR per person. Bali has many traditional dances and one of the most fun is the joged bumbung. Tourists will often see and participate in a joged dance.








New Year Eve Party, Ubud
Finish the day with existing new year eve party with Indonesian food, local drinks, dance and lots of fun.

Dinner time restaurant in Ubud, Bali.
Tried first time Indonesian Food , Chicken With Rice. Seems Biryani
Tried first time Indonesian Food
Buy 2, Get 1 Free Cocktail Promotion during new year eve in Ubud, Bali
!