27th July 2019 / Cheap Charlie's Bar | Soi Sukhumvit 50 | Phra Khanong, Khlong Toei, Bangkok 10260, Thailand  | Every drink is 90 THB. Recommended place to visit near BTS Onnut, Bangkok, Thailand.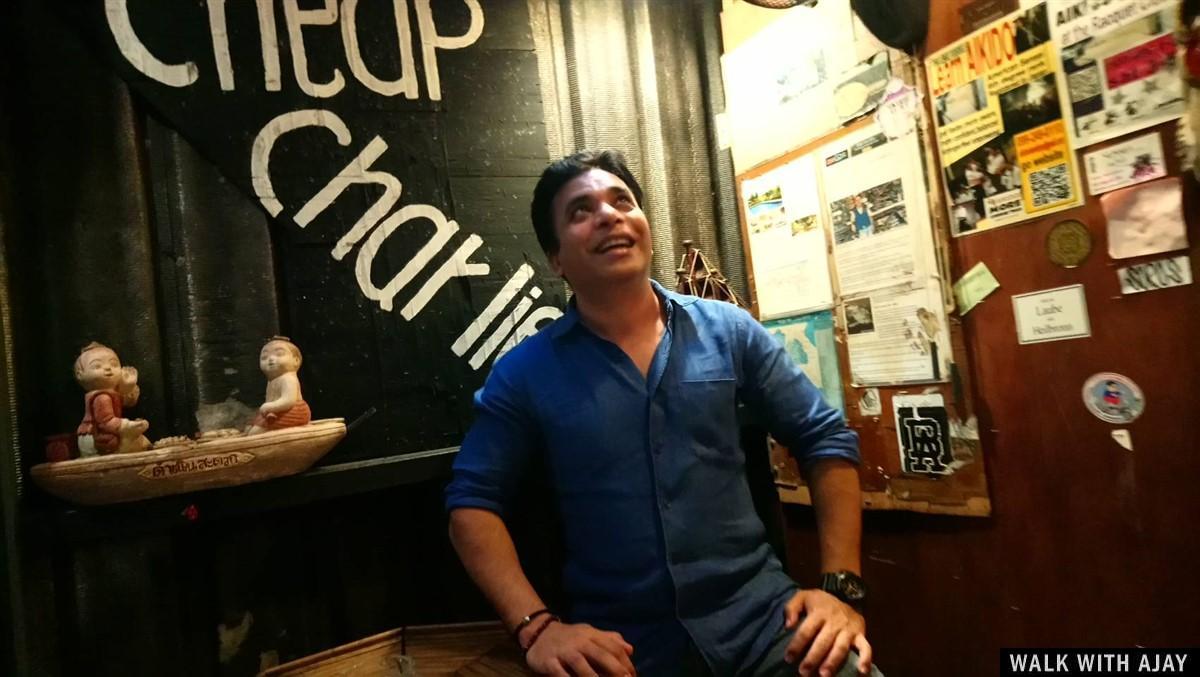 Looking at roof , but there is no roof, very different style of decorating. Liked it
My Walking Story :
It's an open side street bar on Sukhumvit soi 50, drinks are good and really cheap, things that make this place always crowded… there's always a cozy atmosphere in the place and you can meet people from all over the world. You have to go there at the beginning of the evening, as it closes no later than midnight and the last drink order is at 11 pm
Cheap Charlie was built three decades back and as of then nothing much has improved, it still measures the same size at the same place with the same owner, and for the last three decades, the shop has been selling alcohol at a give-away price. The thing that has been changing every year is the theme of the bar. Expats from all around the world come and share the experience with the owner while giving the bar different kinds of art which are placed or decorated near the bar.
The bar is very small plus doesn't have any indoor seating instead it has some outdoor seats for passing by people who can grasp a couple of beers and also hang around all night. The chairs are not any comfortable kinds instead are wooden material placed as a showpiece.
It also has several rules such as a strict message communicated on the bathroom door saying no pooping in the toilet, hence better get sure you come up clean to the bar, while it is normally filled with groups of ex-pats sipping on their beer plus enjoying the soft music which is open in the background. The volume is usually low making sure you can hear the person you are communicating with without bending your face to their ears. Lastly, there is also a yellow line marked like fencing around the bar area, the line is not meant to be crossed moreover all buyers are requested to stay inside the yellow line while they are in Cheap Charlie.
I literally liked this place and loved the drinks over here, and clicked numerous pictures of the bar, do check them on my blog. It was a fun-loving place, they used the waste stuff for decoration purposes which was appreciable. It was summertime when I went over there to have chilled beers, a rush was there but there was something about the place which attract people to it, maybe it's a simple but unique theme along with the ambiance. It remains open: 5 pm-11:30 pm, not open on Sundays. This was the end description of the bar, I hope you liked it!