25th May 2019 / I visited Chocolate Ville restaurant a couple of times. I love this place. However, it's outside the city but a relaxing atmosphere.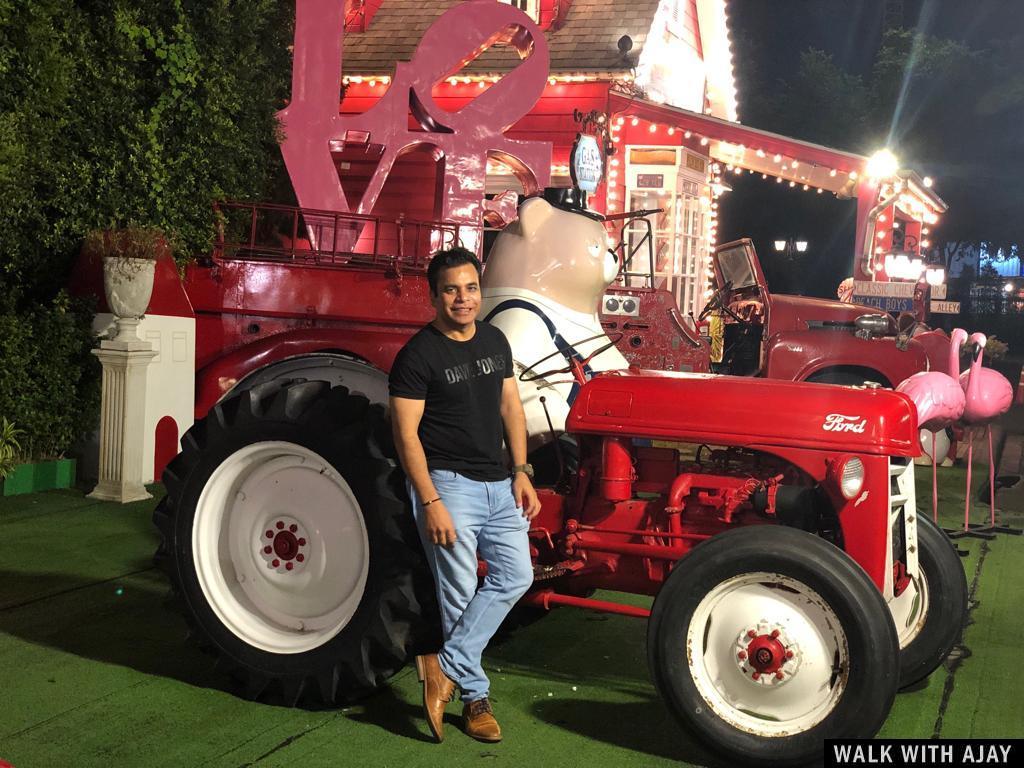 My Walking Story
I am going to describe one of my favorite restaurants named "Chocolate Ville" I use to visit this place very frequently, alone or with any of my friends. Bangkok is a foodie behemoth. Thousands of restaurants struggle for good reviews, making it difficult for locals plus tourists alike to decide where it is they want to ease their hunger in the city. If a definitely unique dining experience is on the voyage bucket list, there is no better spot to visit than Chocolate Ville, a charming, outdoor eatery located in eastern Bangkok.
How to get there, Chocolate Ville is placed about 40 minutes by taxi from midtown Bangkok (without traffic). The staff is amazingly friendly, so feel free to call the restaurant and have them tell the taxi driver where it is they are going to avoid trouble. There are few taxis at Chocolate Ville available to take visitants back to Bangkok; though, their set prices are inflated including almost double what the metered ride truly costs. Feel free to bargain with the drivers. Chocolate Ville is open daily from 4 p.m. to midnight.
I just love the open dining idea of this place, there was a photography zone available, where I clicked lots of pictures with my sister and friend. I tried different poses over there and had lots of fun. Whenever any of my friends visit my place, I always take him/her to this place. The best time to visit Chocolate Ville is evening because the atmosphere becomes damn lovely.
Most people come for good ambiance and for photography, while Chocolate Ville is so much more than a restaurant. Chocolate Ville is formed of numerous shophouses, buildings, including restaurants. No detail was overlooked in the making of this unique venue, which first opened its doors in December 2011. From flowering-covered walkways to the twisting pond that turns through Chocolate Ville, each square inch of this immense dining establishment seizures properly with its "dining in the park" theme. Eaters may feel as though they are in a town somewhere in Europe rather than the boonies in Bangkok.
There are both indoor plus outdoor tables available, though the staff does a great job in getting sure each table has a fan nearby, cooling guests off as they enjoy their meal. Feel free to sit anywhere you please, as each restaurant is serving up the same, delightful menu. Let us talk about the décor, Cookie-cutter clapboard structures shape up the majority of Chocolate Ville, including everything from charming gazebos to a red telephone booth in-between.
Everything regarding the décor is pictorial, making for a lot of selfie-taking tourists congesting the walkways, also it's easy to see why: the urge to pose with the carousel horse is too famous to suppress. For a better glimpse of the extensive restaurant, be sure to head to the top of the lighthouse that resided at its core. The good part about this place was there are no entrance fees.
While coming up to the menu portion:
Here menu at Chocolate Ville goes on for days. Visitors will flip over pages upon pages of delightful international including Thai foods. The menu is divided down by particular cuisine, with complete pages assigned to things like soups, salads, appetizers, and more. There is absolutely no shortage of variety at Chocolate Ville in respect to its menu, including everything from spinach plus mushroom quesadillas.
In extension to the delicious cuisine, Chocolate Ville has a widespread drink menu, including shakes, fresh juices, sodas, plus more from which to pick. Those who desire to enjoy the scene with a glass of wine in tow will be happy to hear that the venue has hundreds of wines to prefer from as well. My happy place to be with my friends.
I enjoy the fullest whenever I visit over here!
Chocolate Ville
Dining in the Park
Chocolate Ville is a mini-themed mall designed to look like an old European village, complete with chapel, barn, clock tower, railway station, and candy-colored shops. Or it could be New England with the Maine lighthouse and the ducks. There are more than a hundred outdoor and indoor tables.
Location
Soi Nawamin 74, Yak 3-8, Kaset-Nawamin Road, Klong Kum Subdistrict, Bueng Kum District, Bangkok, Thailand
Opening Hours
4 PM – 12 AM
Entrance Fee
In Chocolate Ville, we can stroll around, and have dinner at the restaurant. And the good news is there is NO ENTRANCE FEE, yes it's FREE!
Picture taken at garden area with riding bear.