1st January 2020 / Wow, cold weather and the first day of the new year. I am in my dream destination. Exploring Me Linh Coffee Garden, Elephant Falls & Pagoda around Dalat.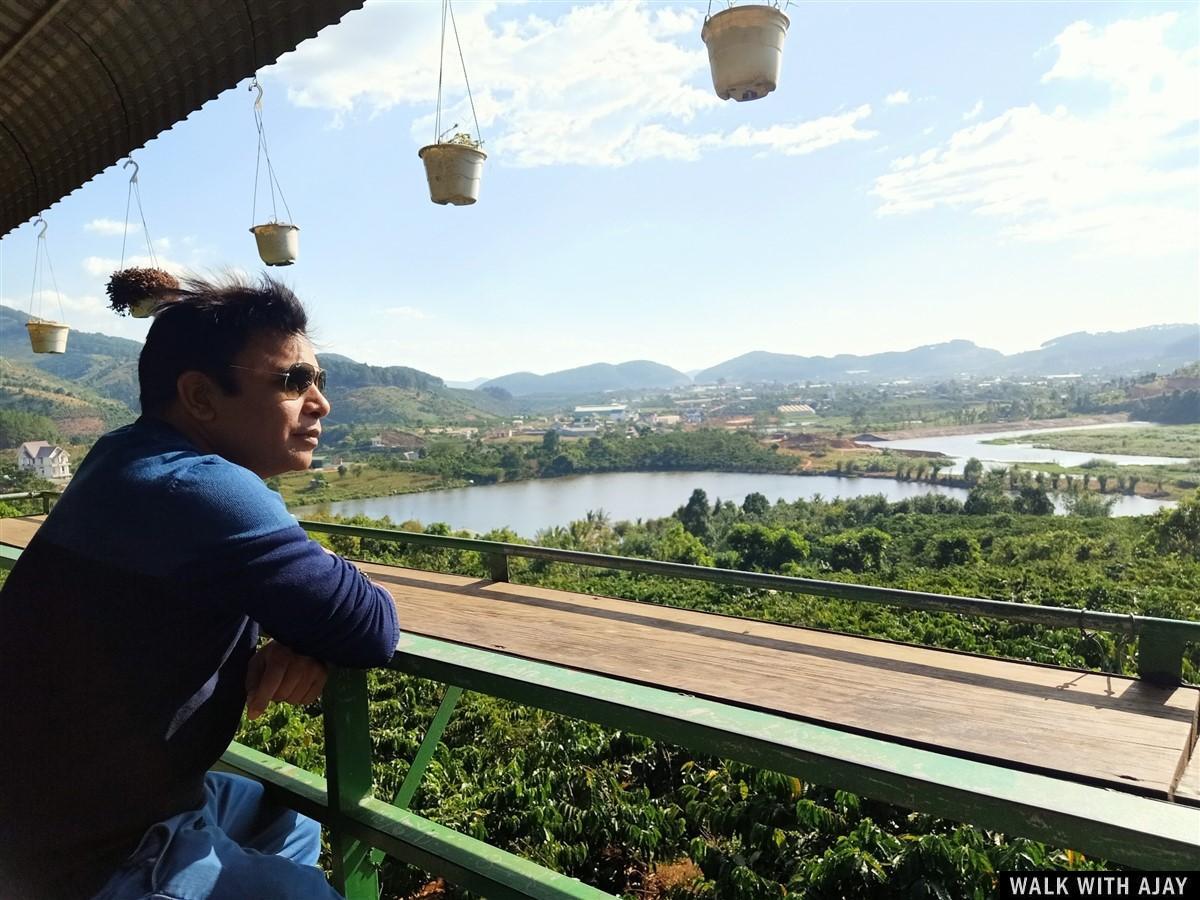 My Walking Story :
Today I am going to tell you about my first day of the New Year in Dalat city. The weather was pretty cool and the temperature was around 15″ degrees approximate and over here the weather remains cool only. Dalat has various nicknames—The Paris of Vietnam, the City of Flowers, the City of Eternal Spring also The City of Lovers. By any name, it's a cool mountain habitat for Vietnamese and tourists alike who are looking to skip the never-ending heat and smog of the more populous cities. The largest people come to Dalat so they can relax.
As it was the second day of mine in Dalat. I have clicked pictures of the beautiful weather along with me and of Robins Villa as well. The Robins Villa was superb in a word all I can say.
After some photography, I had my breakfast and after that, I recorded one video of Robins Villa as I could not able to stop myself from capturing the beauty of the place.
Now the plan was to travel a little far away from Dalat city to see some places and things. I do have an idea where I have to go as already prepared my To-do-list of the day. After completing my breakfast at about 10 am in the morning I initiated my trip and my first destination was Me Linh Garden. Me Linh Garden was out of the city around 20 km away from my villa. And this was my first drive on the right-hand side so I was excited and opened my Google map and started following the instruction. I reached in 45minutes as I was driving at a bit slow pace because of right-hand side driving.
Me Linh Garden is a large garden with a variety of coffee plantations. They make wonderful different types of coffees and sell them too. Me Linh Coffee Garden – the Coffee shop has a pleasant view in Dalat and one can have nice Weasel coffee while appreciating the open wide view of the lake and large green field of the coffee tree from high. I must say that the greenery over there was eye soothing. One cannot get enough of that view.
I have captured the lovely aerial view of the garden along with many more pictures and after the coffee, had a bit of lunch over there. One can see the surrounding's proper view in the video which I have made.
Just near Me Linh Garden, there were small roadside shoppers selling sweet potatoes and eggs, visitors used to try that always even I tried that.
Then after I went ahead to explore more places, as in between I came across a few places but they were not much catchy so I skipped them.
Further, I drove around 10 km long and went to Elephant Falls.
Alike so numerous other charms in Dalat, Elephant Falls truly has another name which is Lieng Rewoa Waterfall, although the purpose for this is that Lieng Rewoa truly means Elephant Falls in the town K'ho ethnic writing.
This waterfall is less visited than other falls in the region as it is more challenging to get to, but this means that you can skip the mobs on a trip here and just relish the peace and quiet of the lipid pools and gushing water.
For me, it wasn't that engaging but has a scenic view of photography, so capture some moments and I don't drive to reach the destination, in fact, I love driving and enjoying my journey till destination arrives. Majorly I was enjoying right-hand side driving.
Attached to Elephant Falls there is a place named Linh Son Pagoda which is a notable Buddhist temple in the resort town of Đàlat, Vietnam. Linh Son Pagoda is located on top of a small hill at 120 Nguyễn Văn Trỗi Street, in the second ward, approximately 700 m northwest of the center of Da Lat.
Linh Son Pagoda was within walking distance from Elephant Falls around 500 meters half an hour of walking distance.
I roam around, had fun while clicking pictures by posing differently and after spending good quality of time I went back to Dalat which was 30kms away from that place and it was already 5 pm in the evening.
It took around 1 hour for me to reach Dalat and in the middle of the way, it was the dark cause of sunset. It was pretty cool weather, breeze and had a nice experience of driving at night time as well.
Between 7 to 7:30 pm, I reached the same Dalat market. I parked my vehicle at one side and thought of having different plans to have dinner so I was checking out everything and observing all stuff. Suddenly I saw a Vietnamese restaurant where lots of tourists sitting and having food which was grilled such as vegetables, chicken, etc. so went over there and had my dinner.
During having dinner I clicked some snaps and then went walking after an hour. I was roaming around the marking and had a coffee at a place named Bruno Coffee. I spent around 45minutes over there and thought of getting back to a pavilion which is my villa.
As it was 10 by night and I was onto the way I saw a roadside bar, so stopped my motorbike and went over there to check out the bar. Mostly the local people like this type of roadside bar. I tried some cocktails, it was cheap and the best bar. I spent more than an hour over this place and then at around 12 midnight I reached Robins Villa and went to sleep. The day was awesome along with lots of memories. So this is how I spent my first day of the New Year.
Hope you liked it.
Watch My Video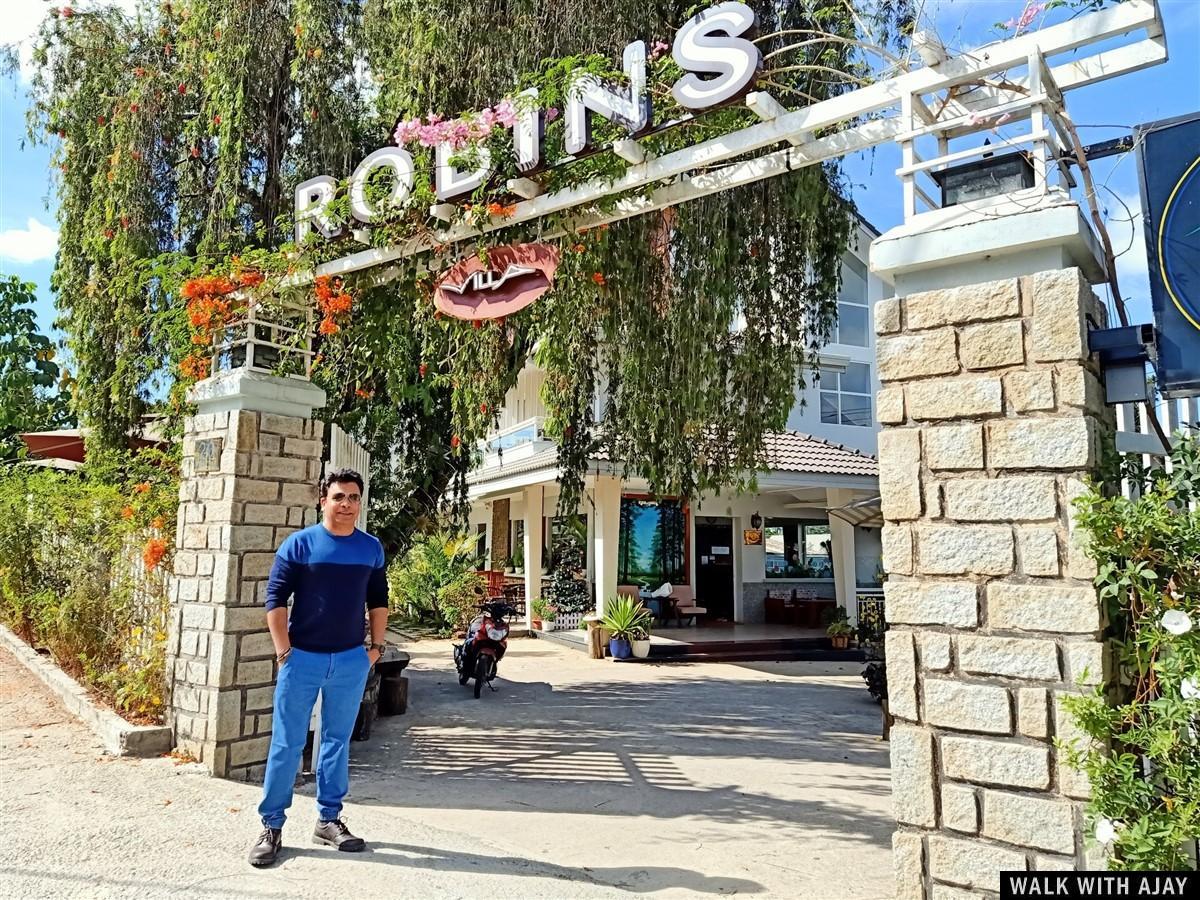 Me Linh Coffee Garden, Dalat
Me Linh Coffee Garden sits on DT725, approximately 20 kilometers outside of Da Lat and is open 7 days a week from 7 AM to 6:30PM. You'll know when you get there because there are coffee trees as far as you can see. Me Linh Coffee Garden not only grow their own coffee, but they also roast on-site and sell it from their very own cafe. The complex stretches out from the top to the bottom of the hill and through the coffee trees. It consists of many seating areas, a shop, café and weasel living quarters.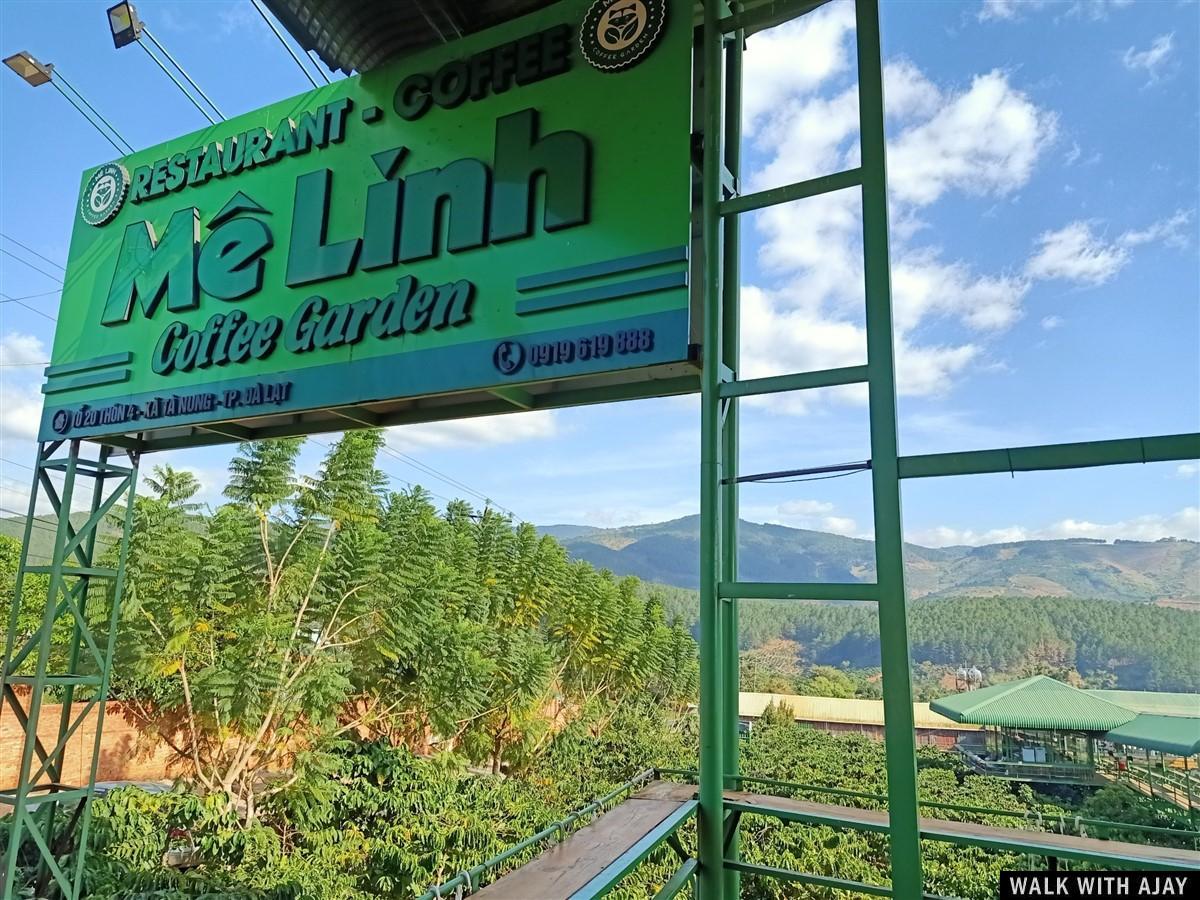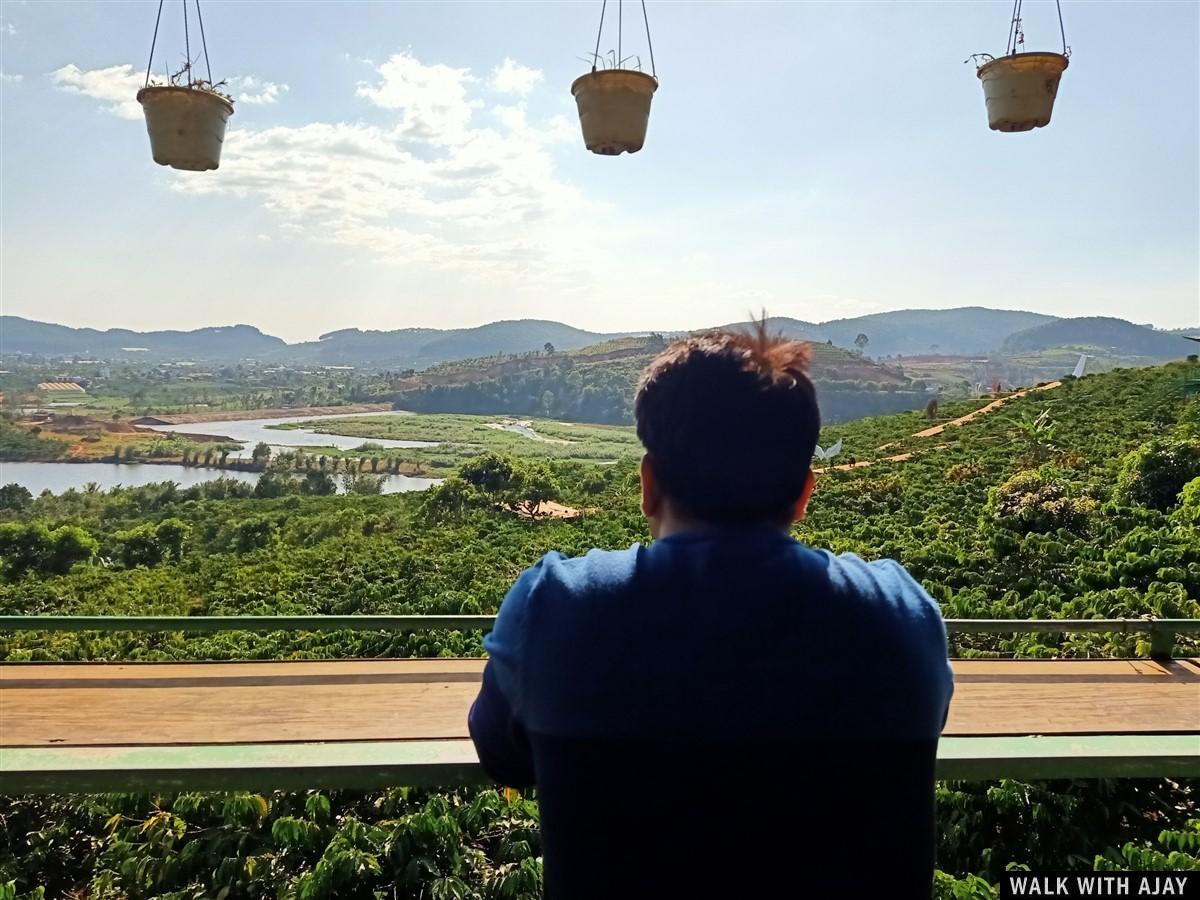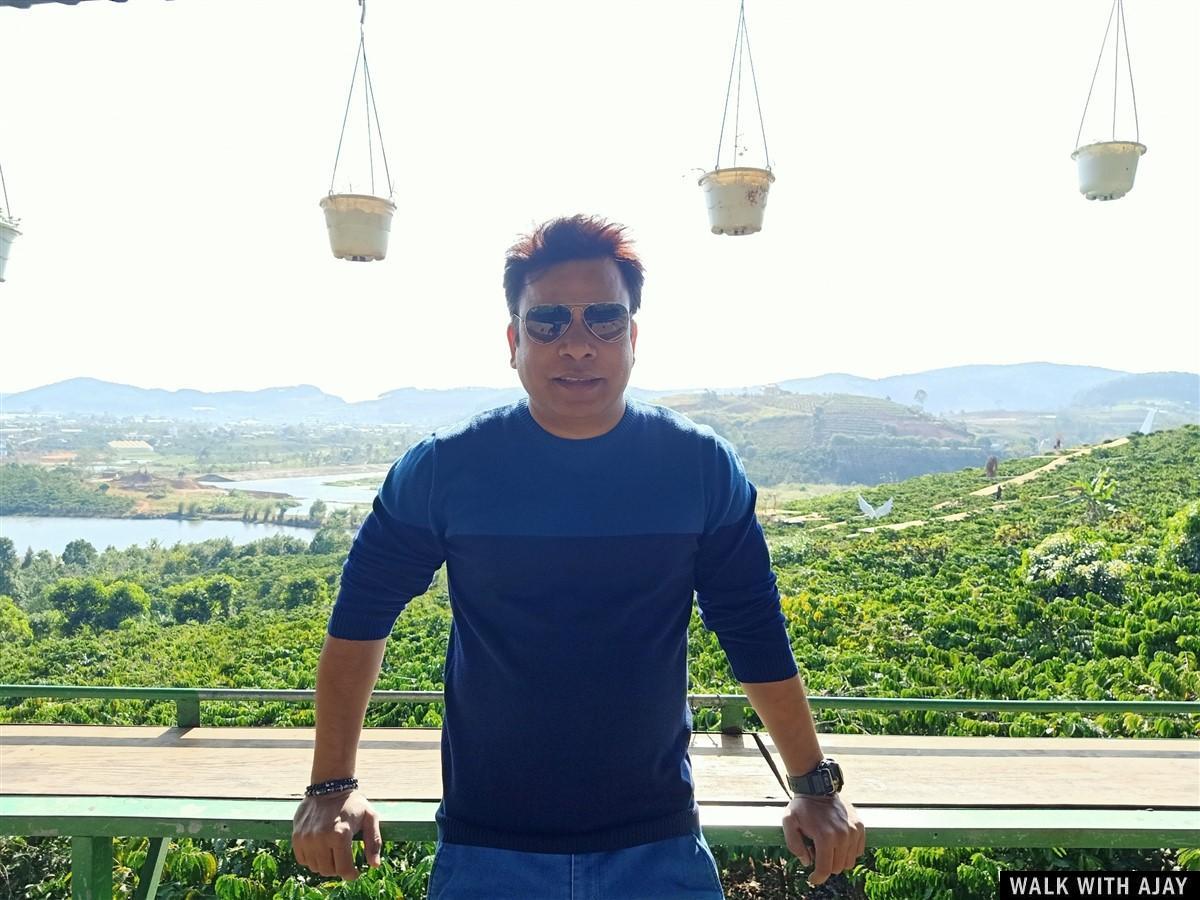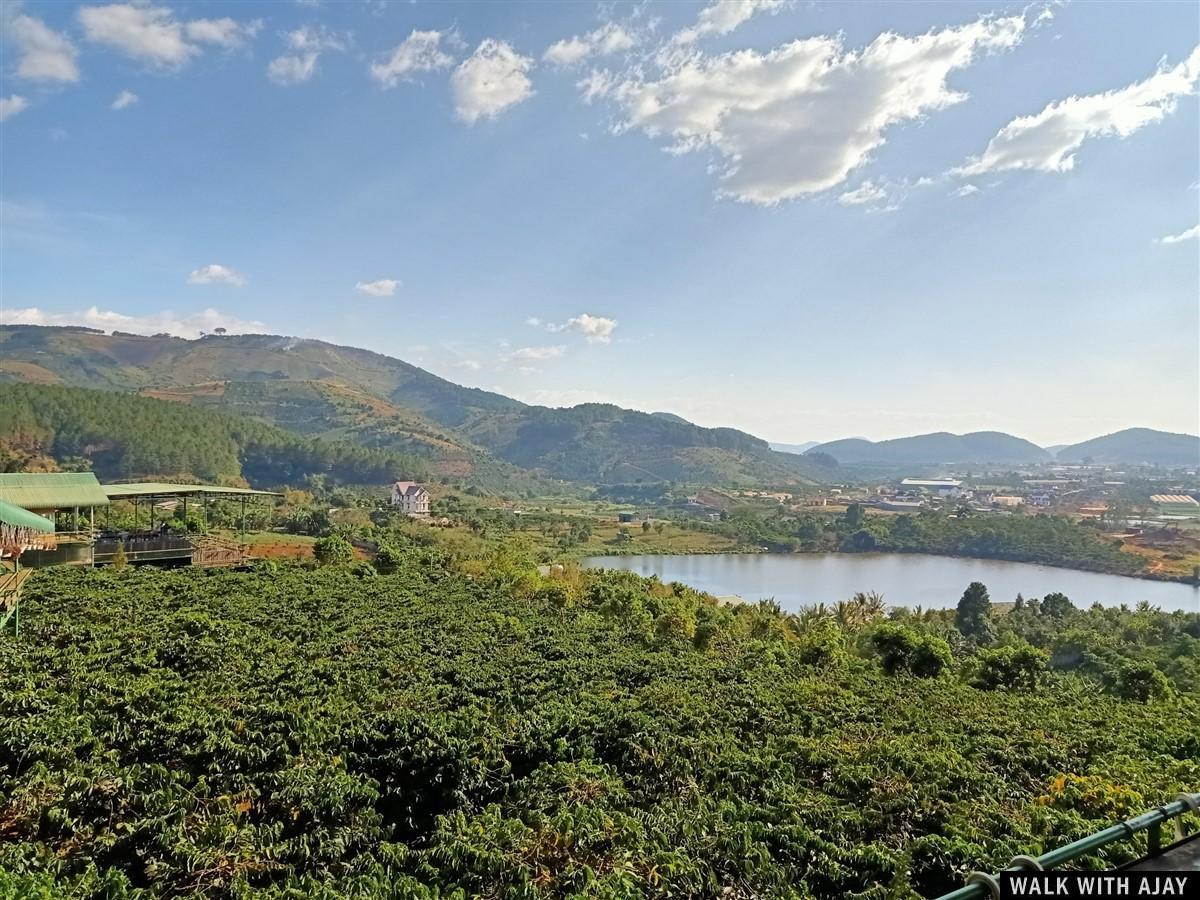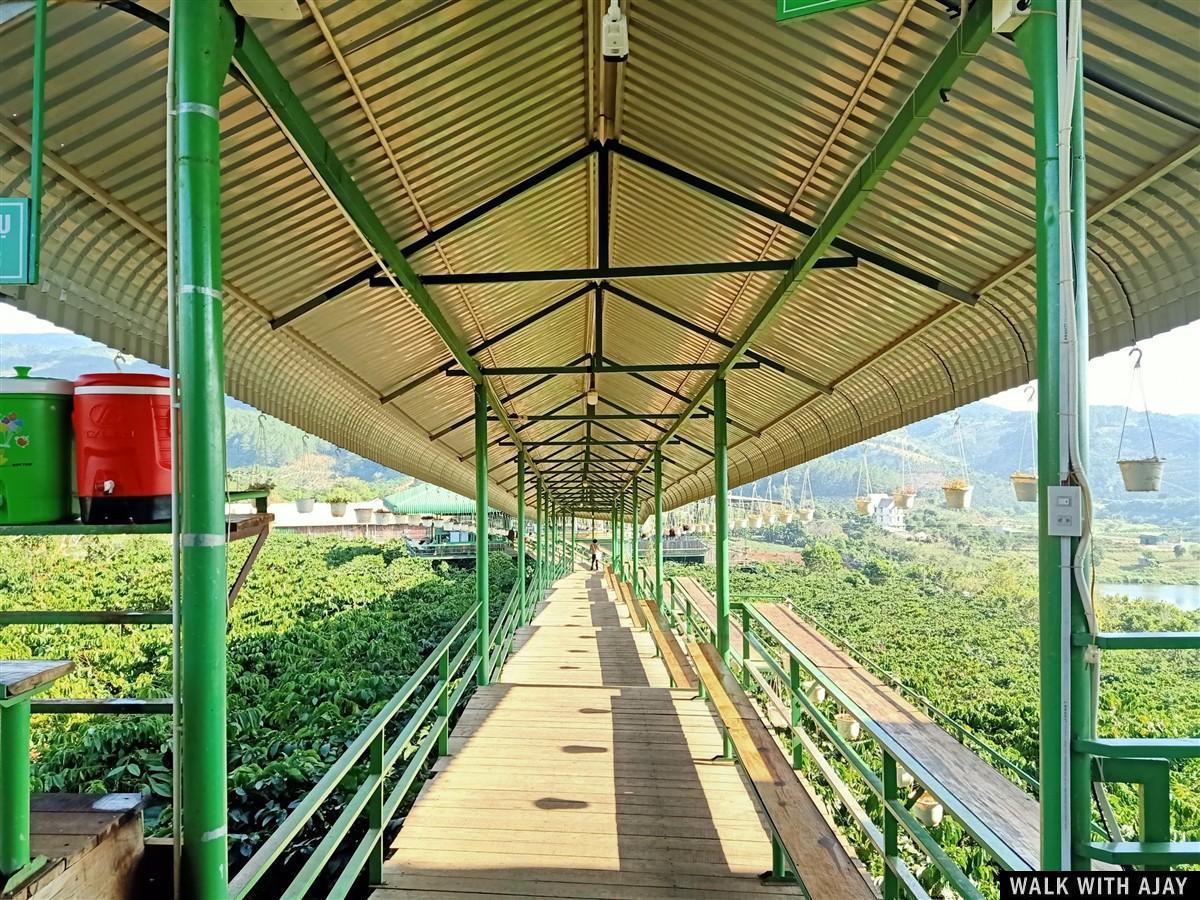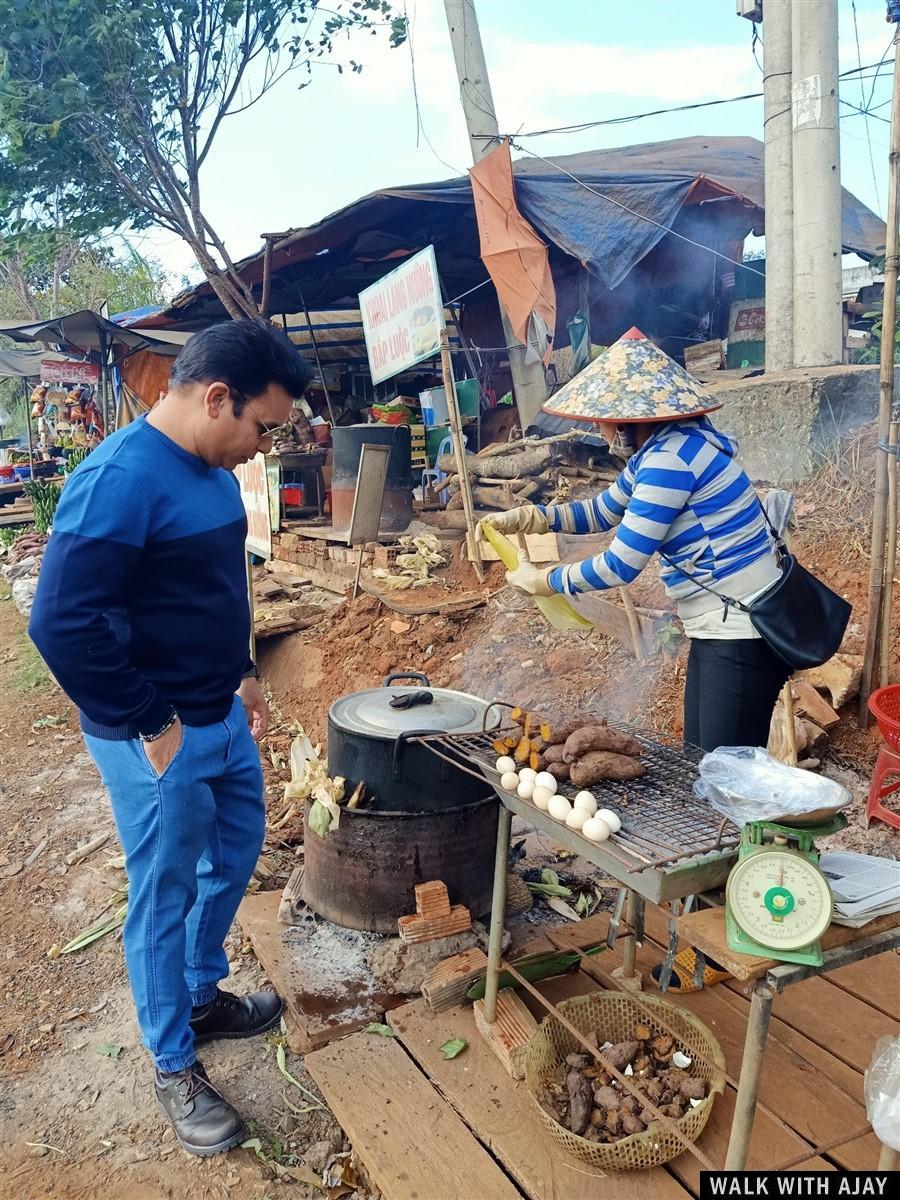 Elephant Falls, Dalat
Elephant Waterfalls is a waterfall in the Central Highlands of Vietnam. It is located about 25 km from Da Lat on the Cam Ly River. The falls are described as one of the most beautiful of the Central Highlands. A path with steps carved out into the slippery rocks leads to the foot of the falls.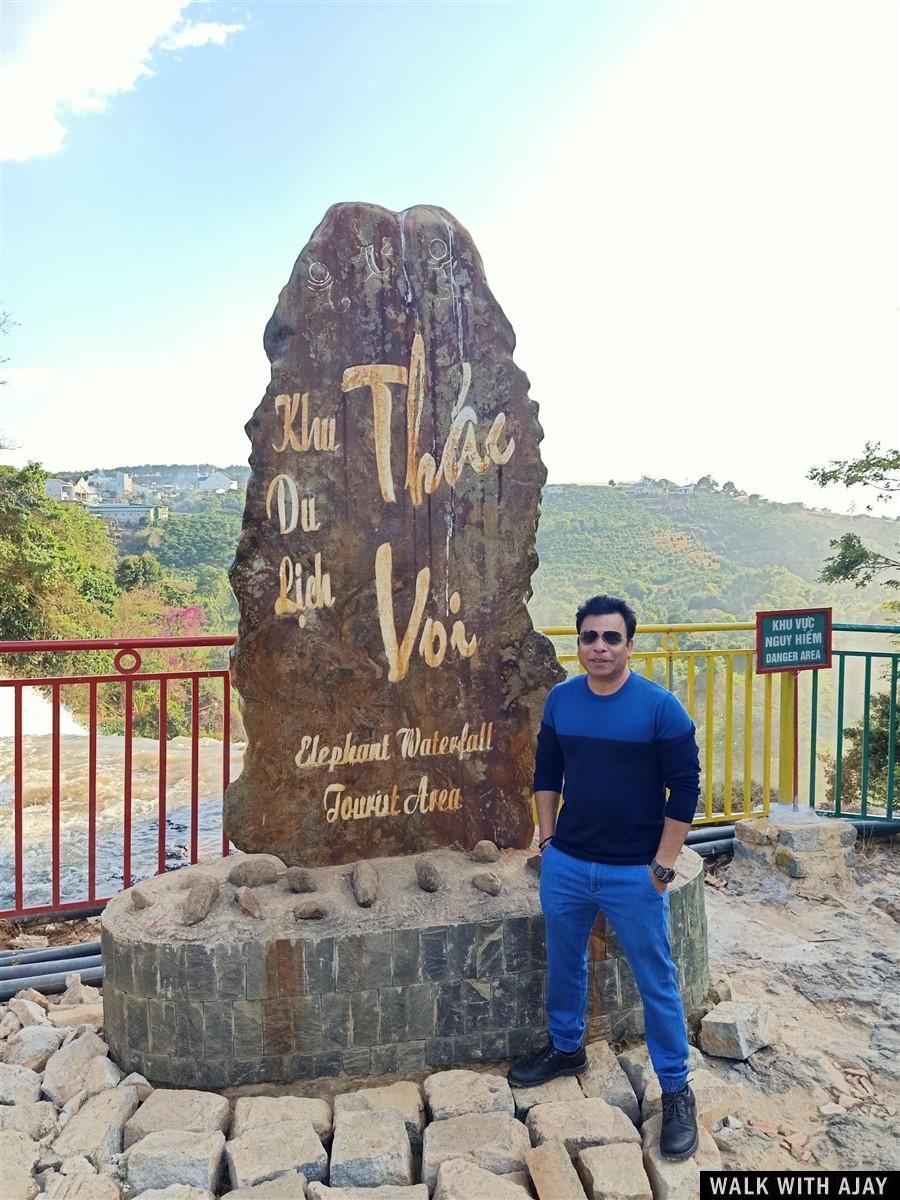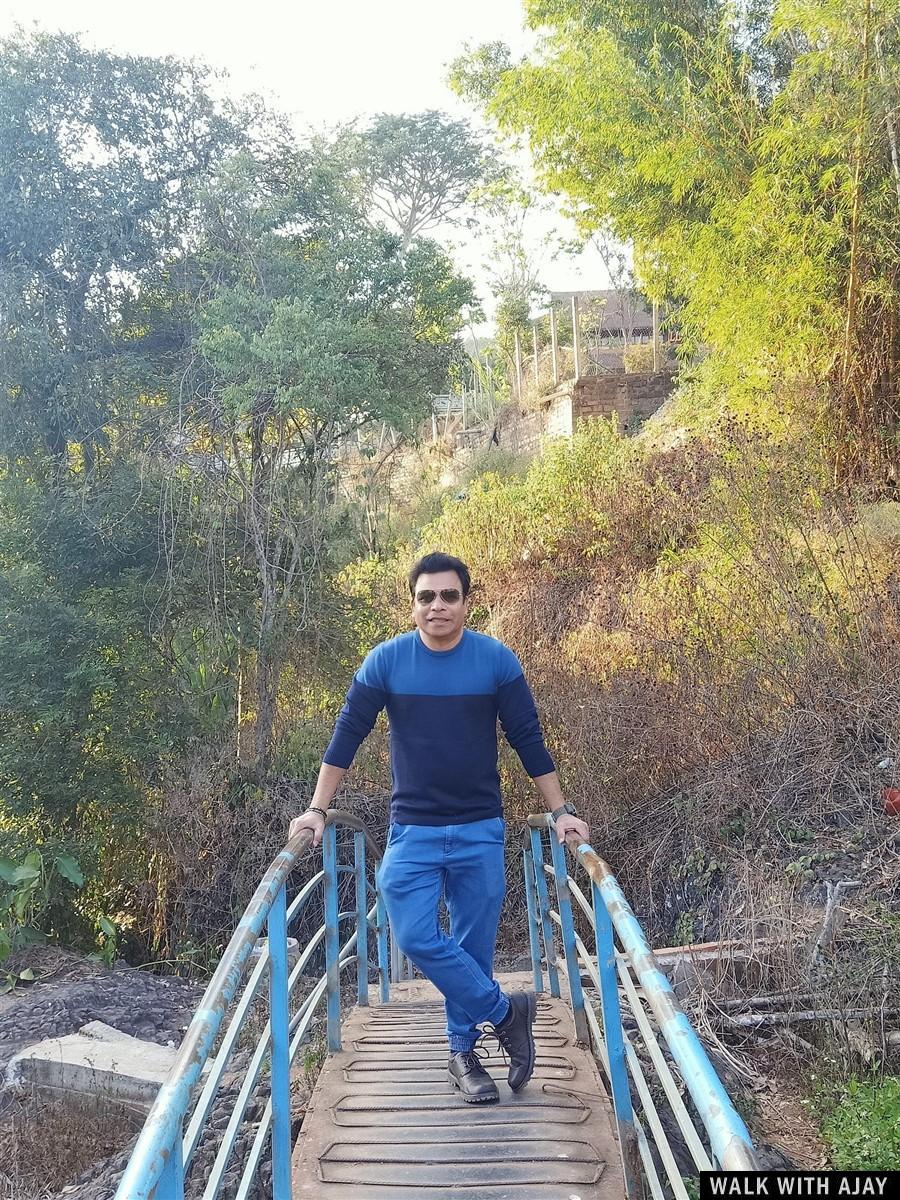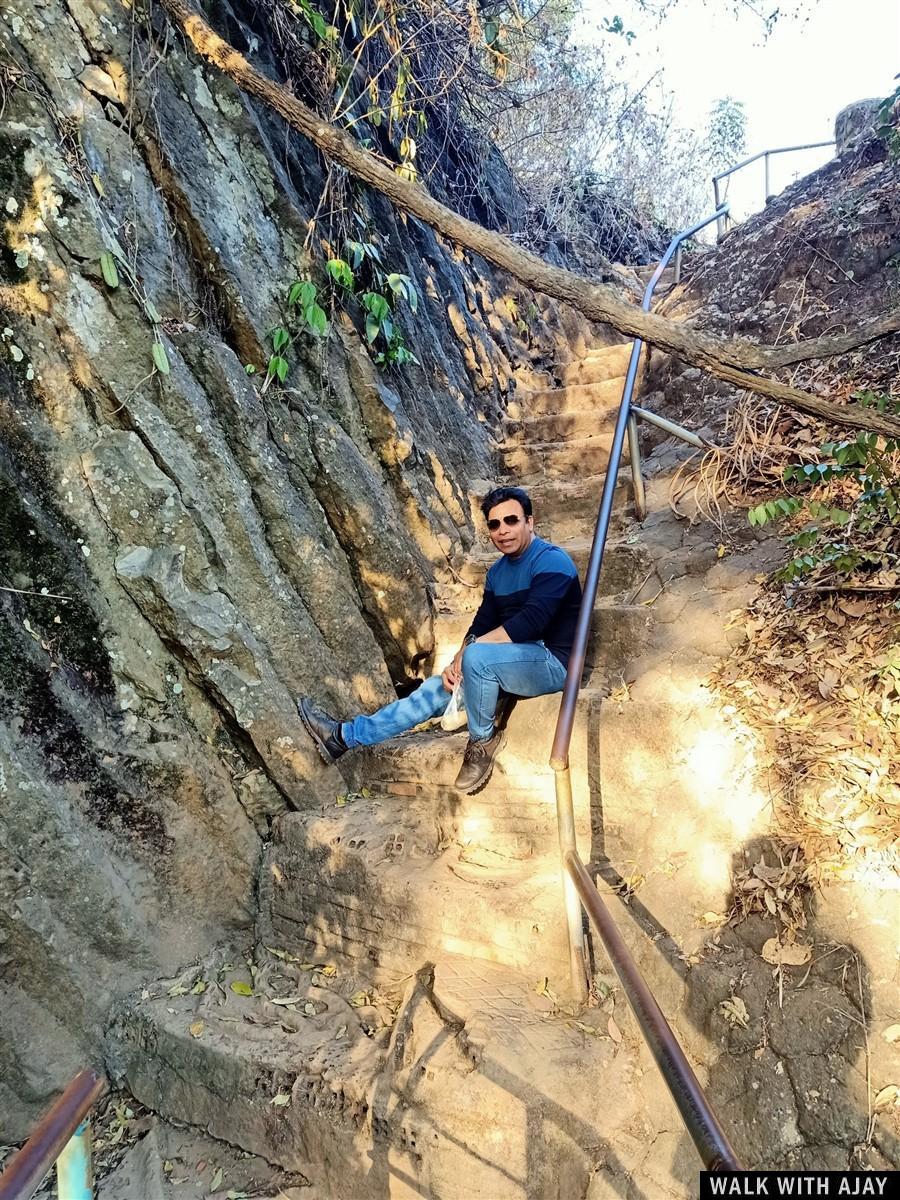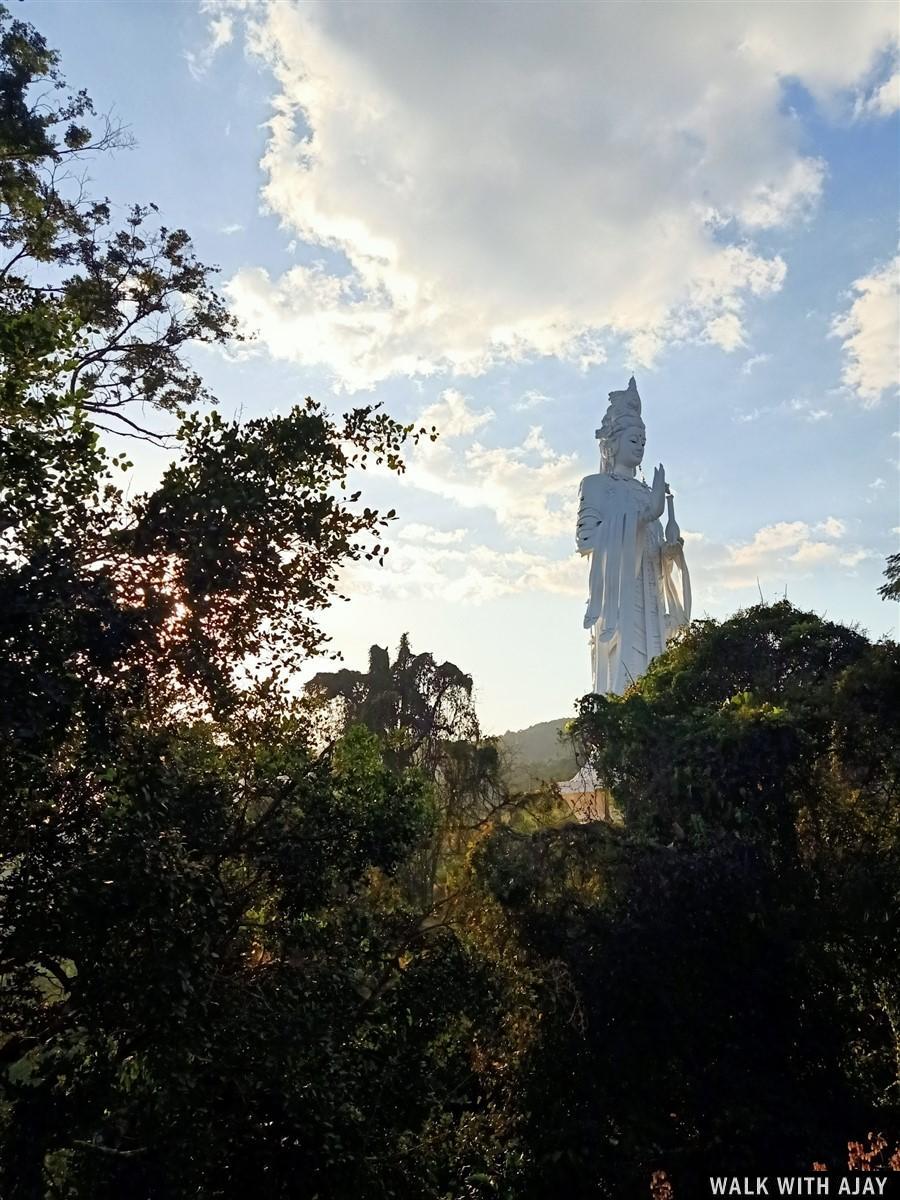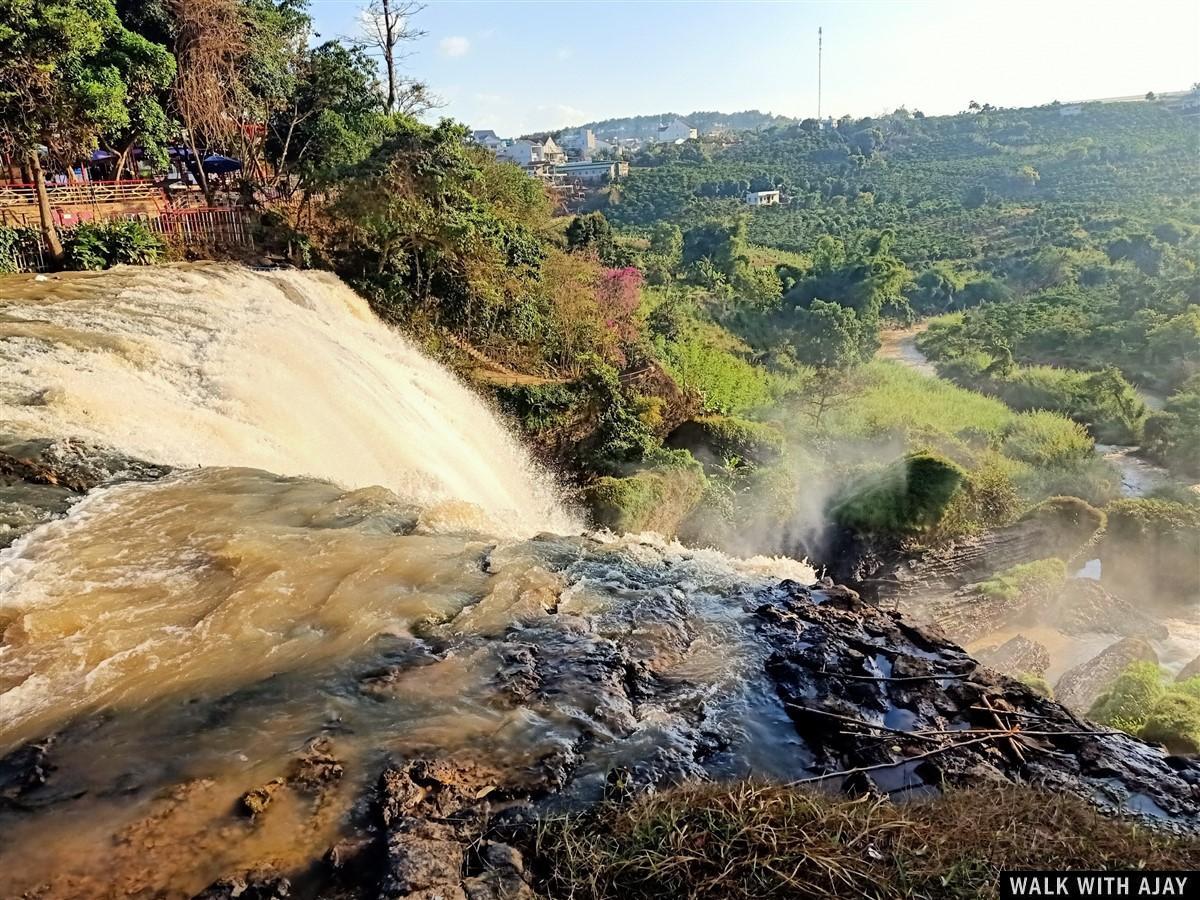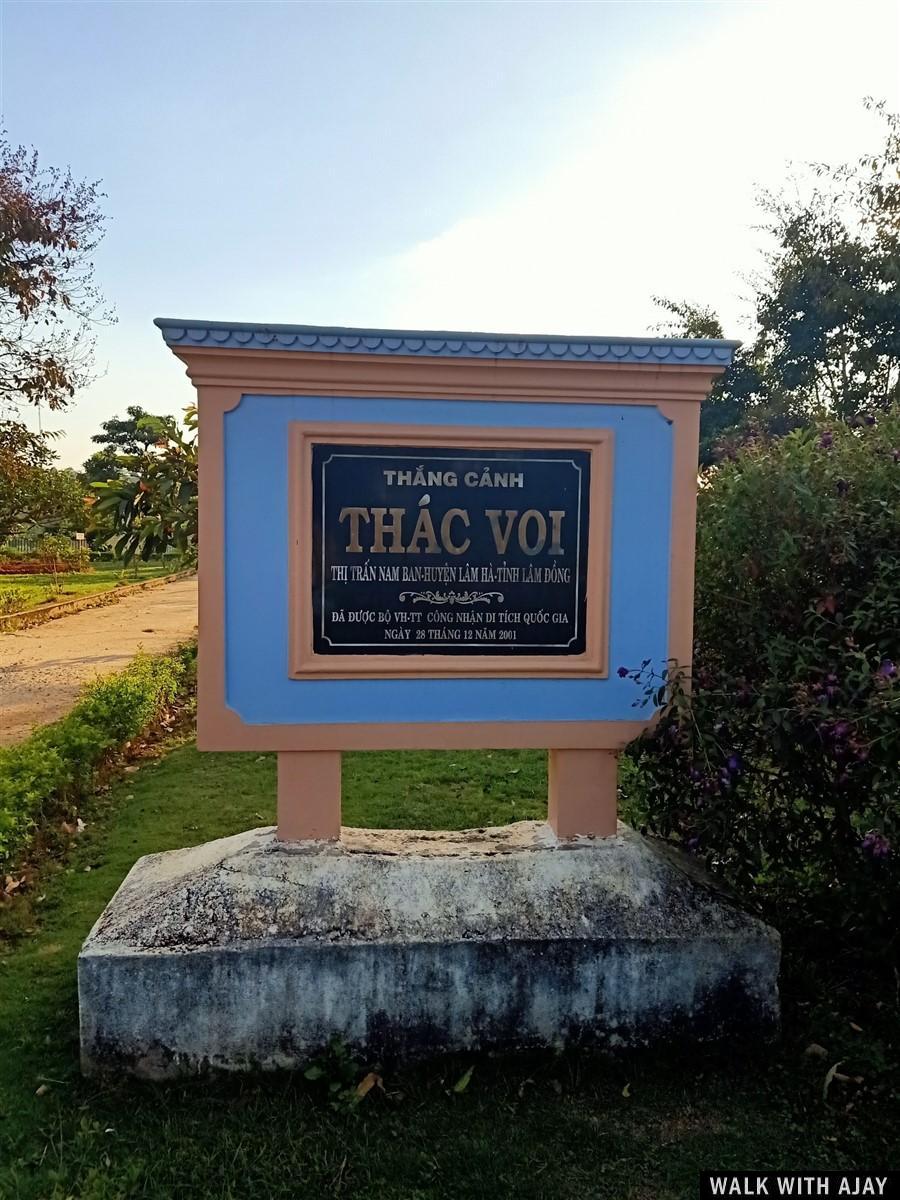 Chua Lin Anh (Linh Son Pagoda), Dalat
Linh Sơn Pagoda is a notable Buddhist temple in the resort town of Đà Lạt, Vietnam. Linh Son Pagoda is located on top of a small hill at 120 Nguyễn Văn Trỗi Street, in the second ward, approximately 700 m northwest of the center of Da Lat.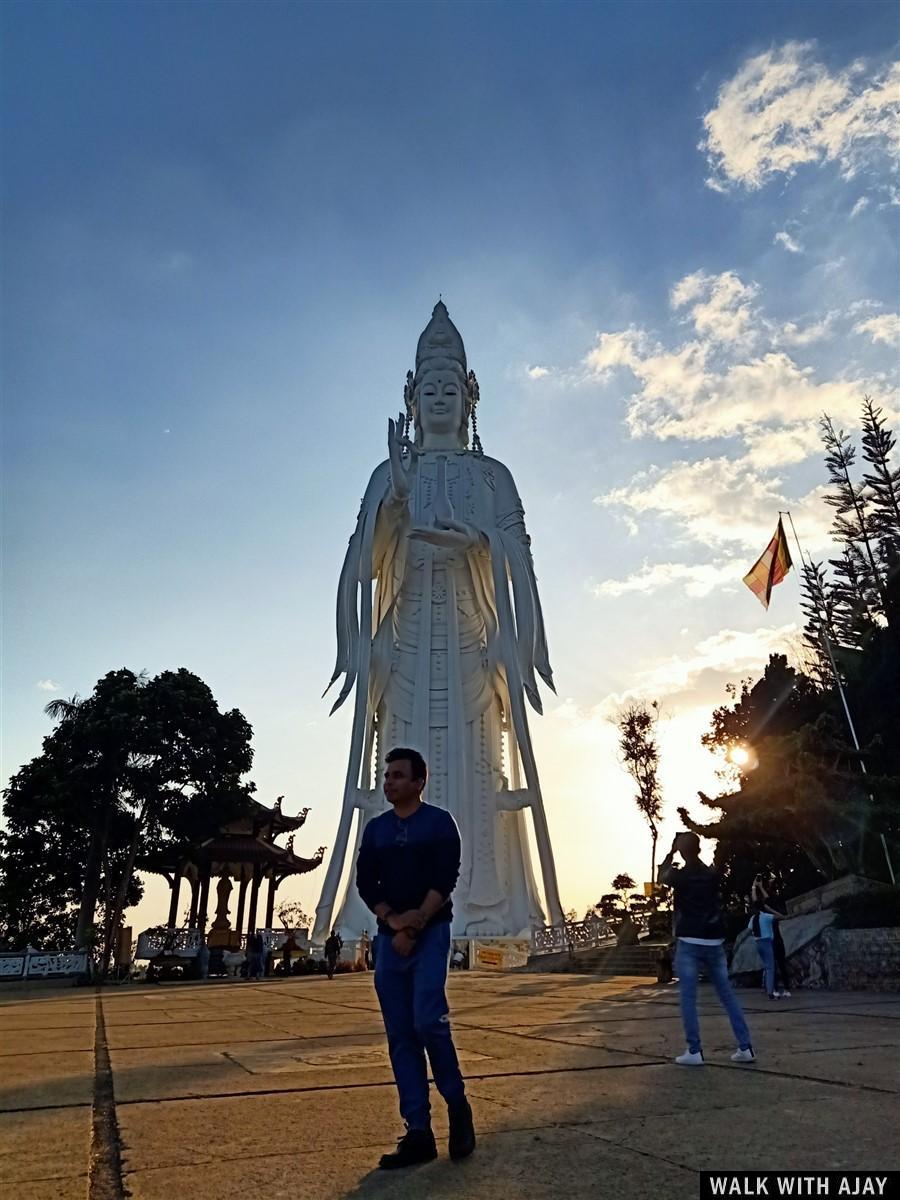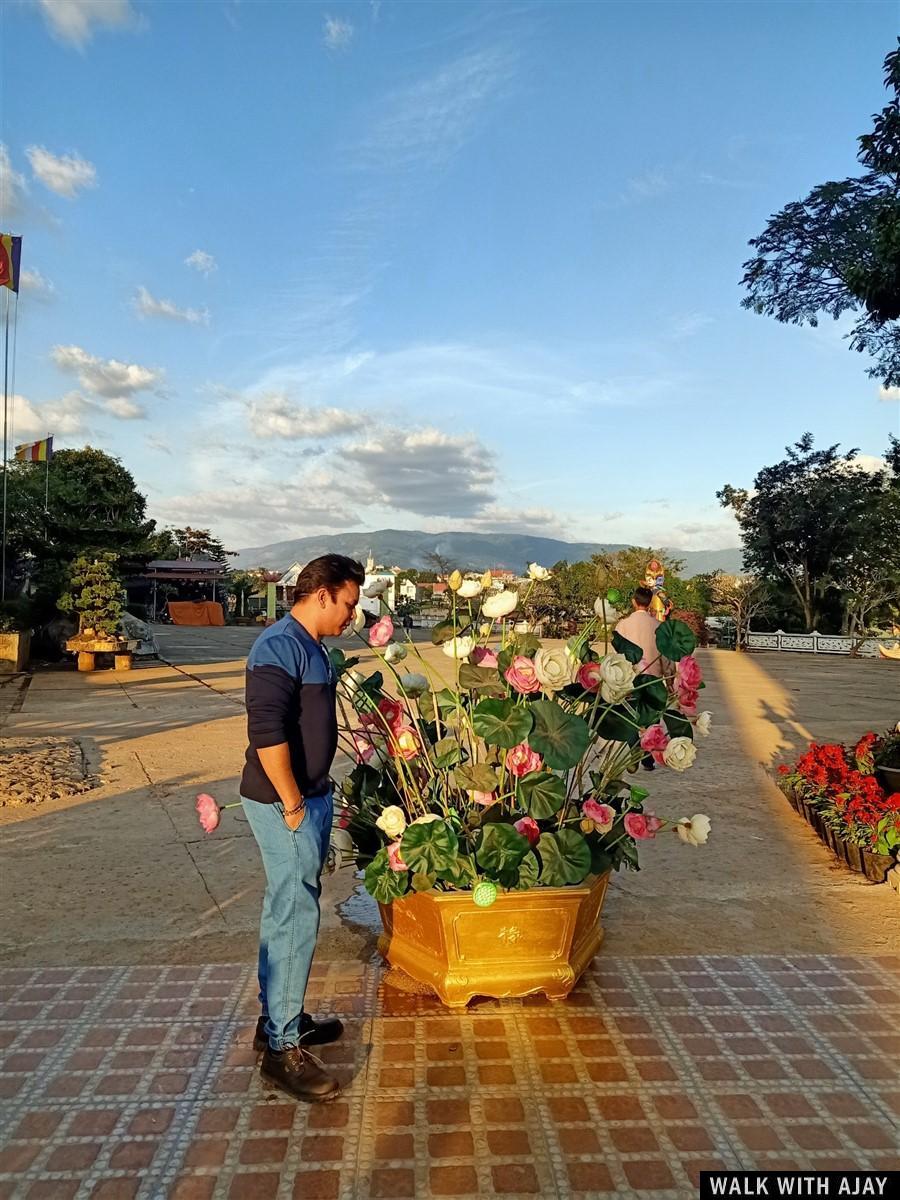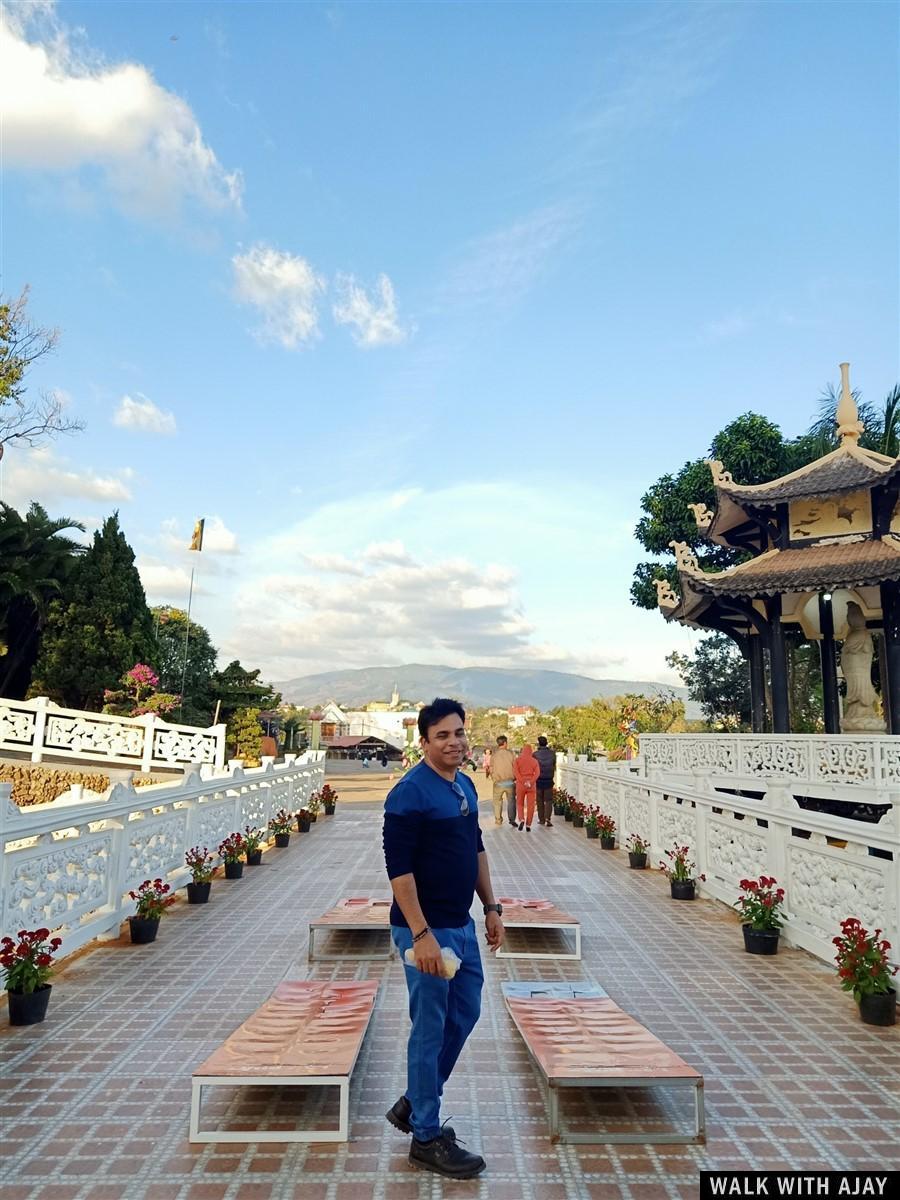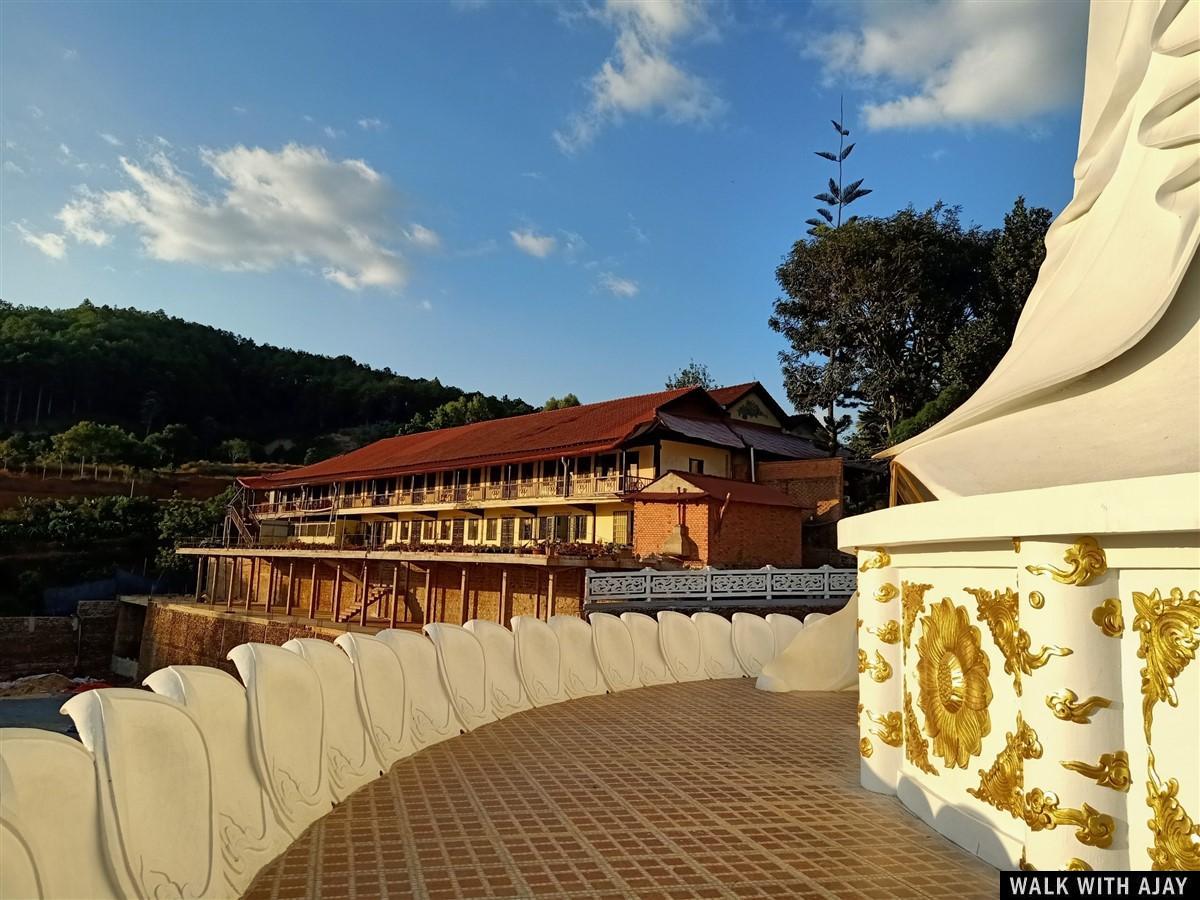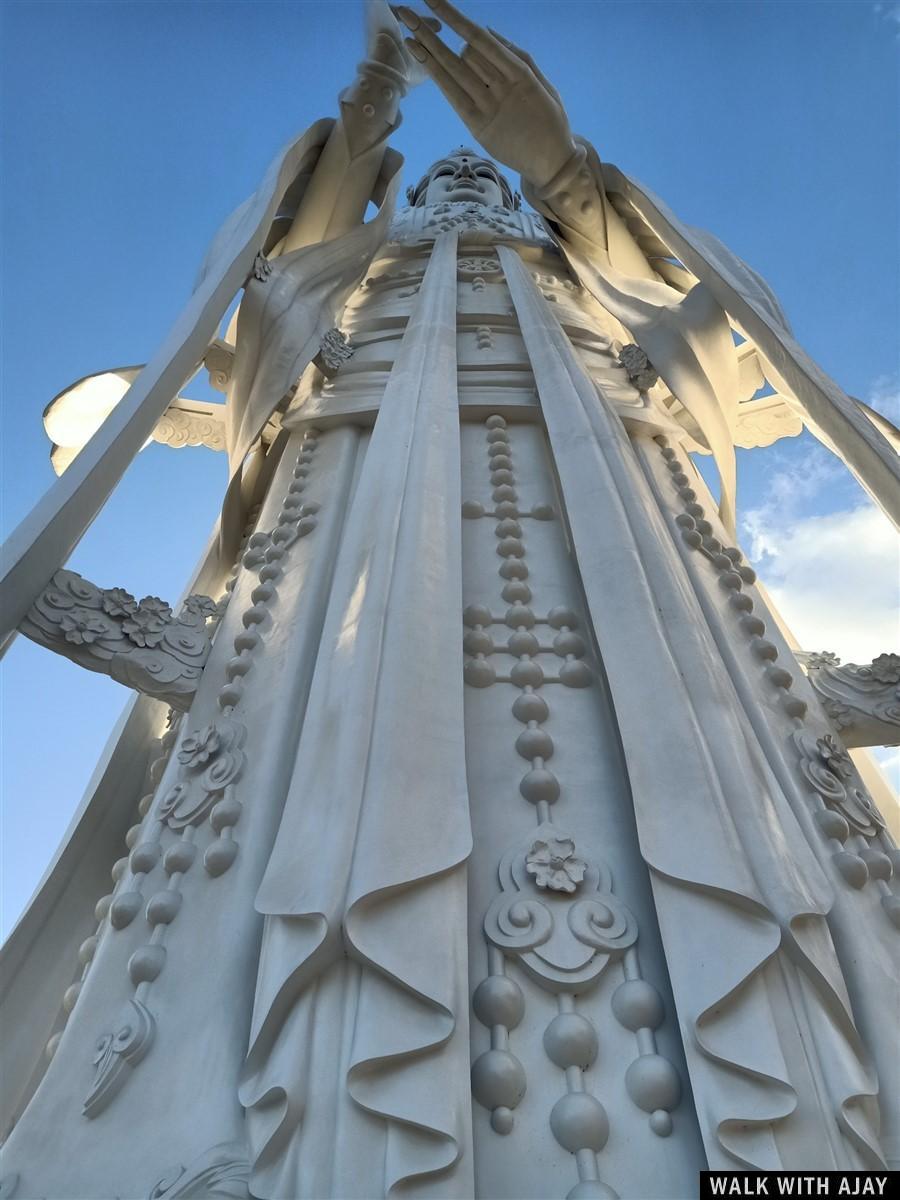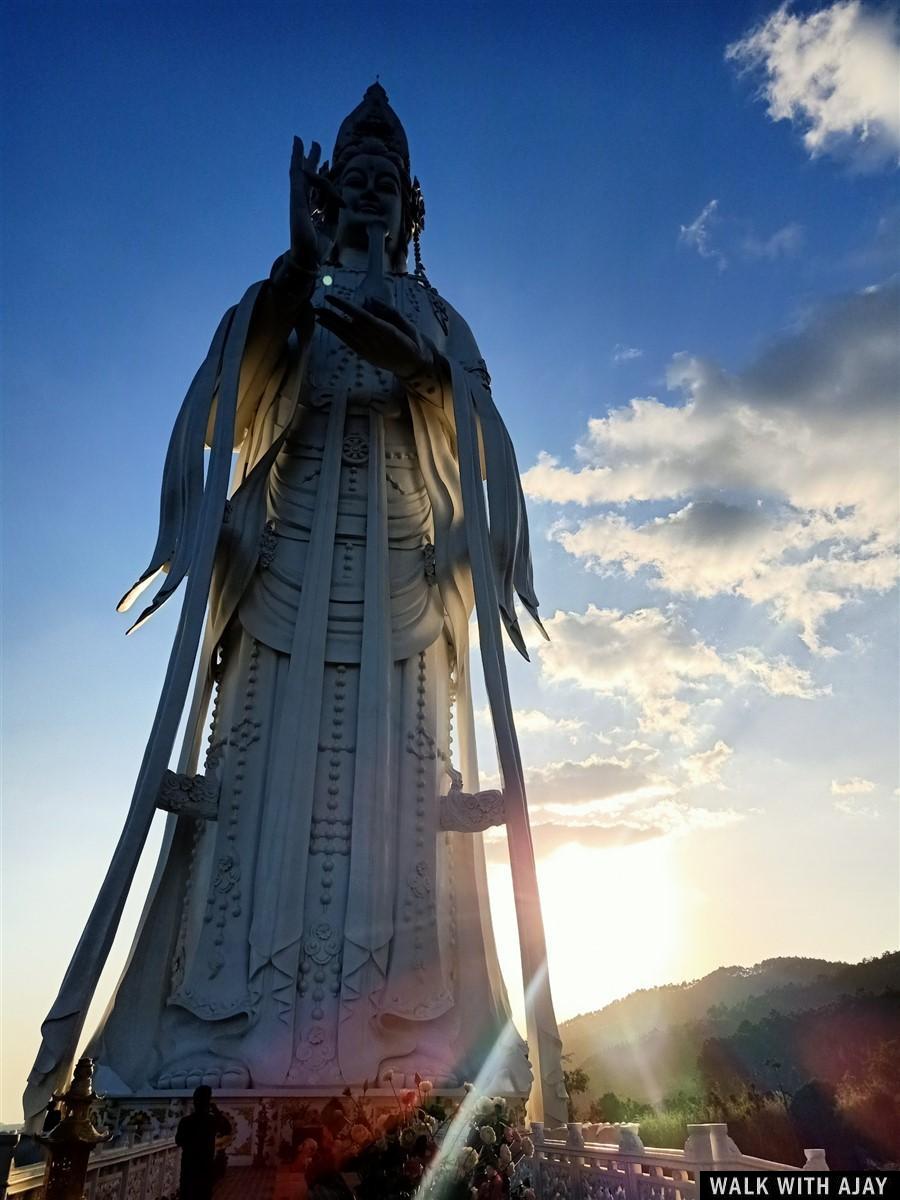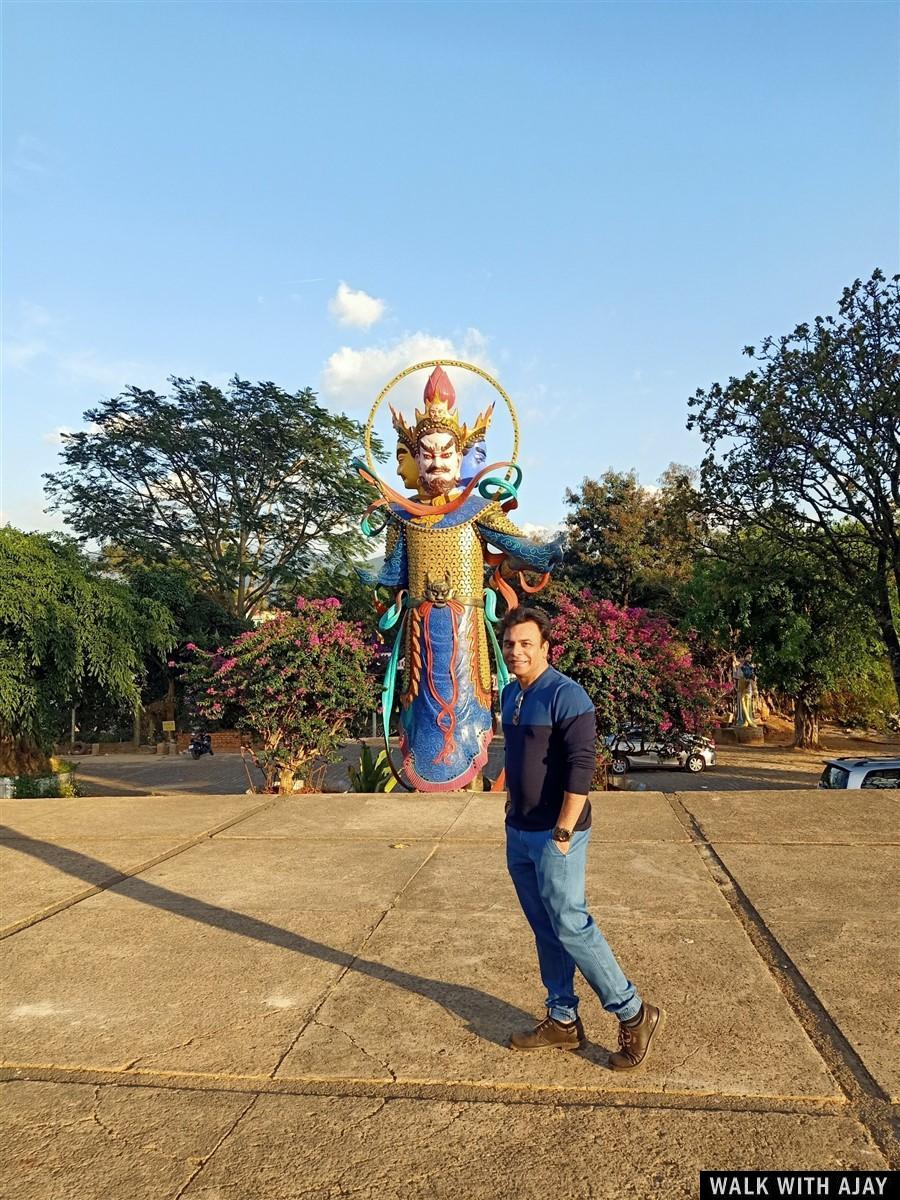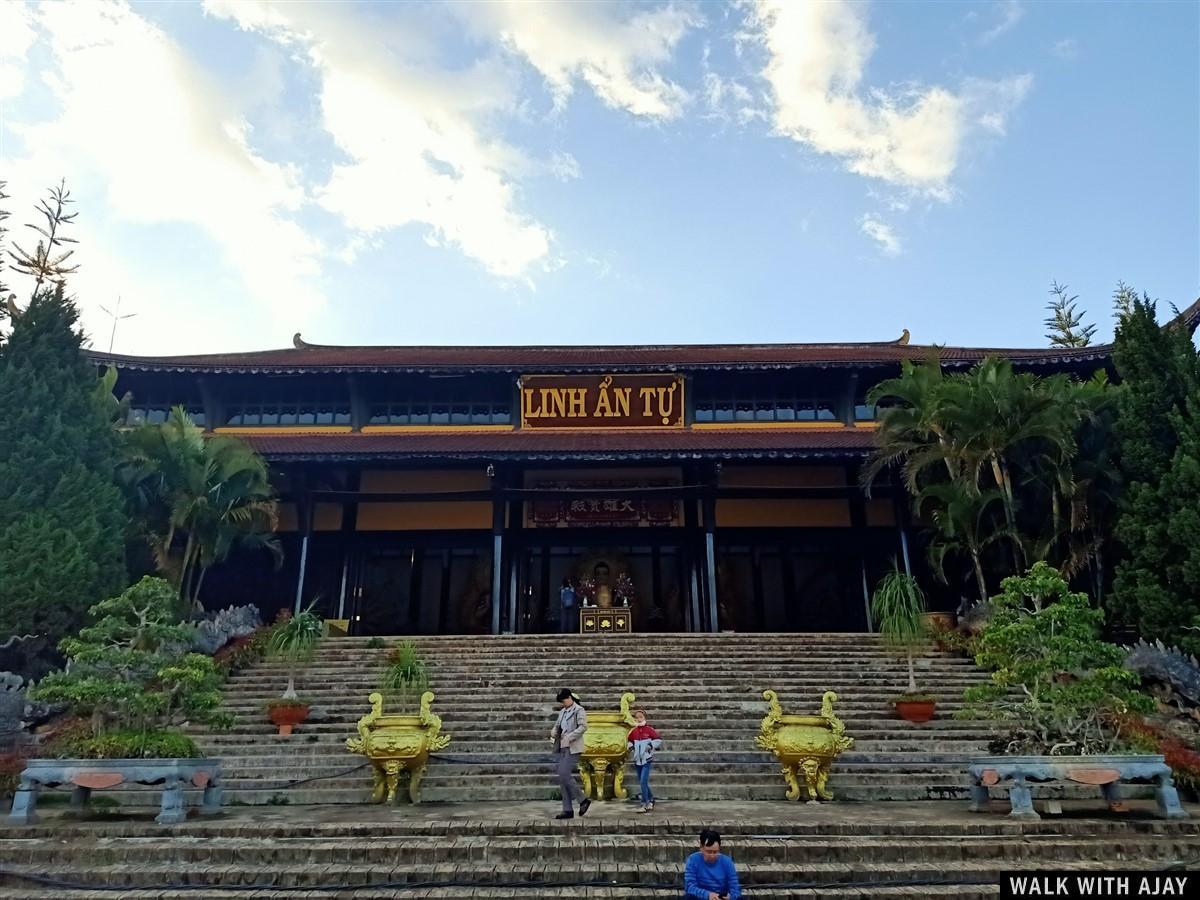 Dinner & Walking in Dalat Night Market
The walking town was established on 1-11-2003 (also called Dalat night market). It was recognized as the first walking town in Vietnam by Vietnam Record Book Center, and also is the only pedestrian area in Da Lat city. The vehicles are banned from getting in during the time of walking town make this area become safe and interesting for the pedestrian. Tourists can stroll and discover 5 different areas. There are also many lovely souvenir items like key chains, dolls, Dalat T-shirts being sold by vendors around the monument area and on the pavement.