Exploring Vang Vieng : Laos (Dec'04)
28th December 2004 / Trip to  Vang Vieng, Laos 🙂
My Walking Story :
Today I am going to narrate my trip to Laos in December 2004. Previously in April'04 I went to Cambodia, so there was a holiday in December month, I thought of exploring another country name Laos. I went by bus to Laos as it was not far away, and it was possible to go by bus.
While the capital of Laos is Vientiane, I took a bus at night-time and in the morning reach at the border side plus completed the visa process over there. Enter the capital city at Vientiane and I already plan to visit Luang Prabang city which was on a hill station and it was just a plan to be executed. First, I had my morning breakfast, as from the border side I did not go into the city, while I must go to Luang Prabang by bus. The whole night spends in traveling only, so I ask a concerned person about it and he said that getting a direct bus for Luang Prabang was difficult so it was better to visit a place in between the way to Luang Prabang name Vang Vieng. He suggested I catch a bus for Vang Vieng and to spend a day over there, later catch a bus from there for Luang Prabang.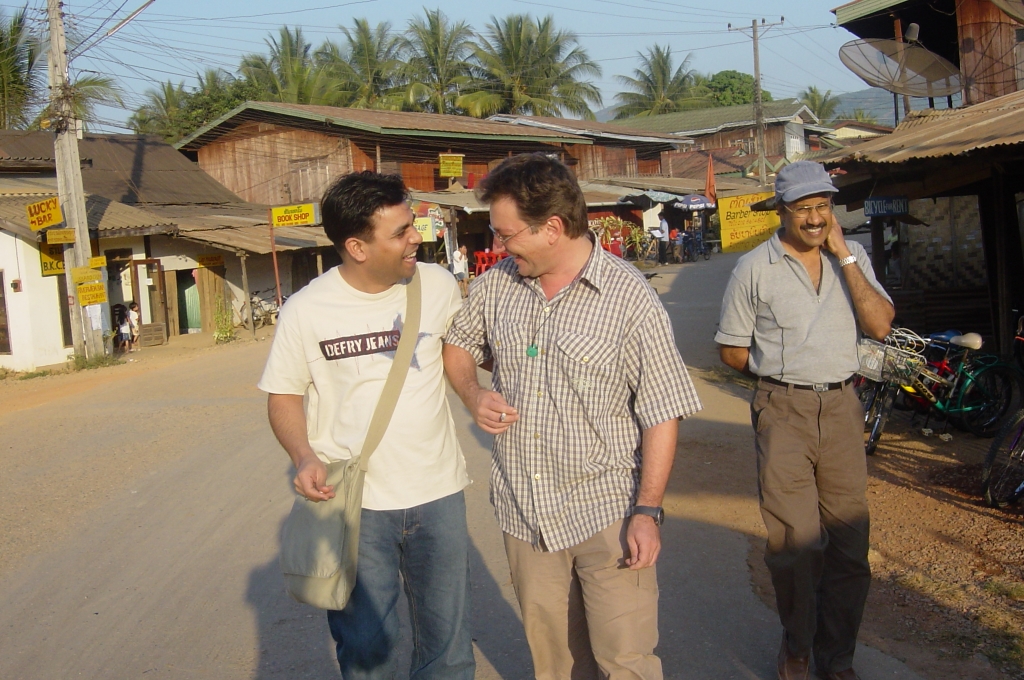 It was a nice suggestion and I agreed on that, while at that time in 2004, I don't book a hotel in advance nor we use to have a mobile or internet to use. So, I catch a morning bus and it drops me at Vang Vieng in a time period of three to four hours of traveling.
The Vang Vieng is a small village kind of place and it was a beautiful place as per 2004, in today's time it might get develop but that time it was really a lovely village place to spend holidays. And like to inform you about this place: Vang Vieng is a small village north of Vientiane, on the Nam Song River in Laos. It's encircled by beautiful limestone mountains including caves. Tham Poukham, to the west, is a cave with a blue-green lake plus a reclining Buddha statue. While, North is the wide Tham Nam Cave, which has a fountain at its entrance.
Nearby, Tham Xang Cave has a stalactite echoing an elephant. The town is home to 16th- and 17th-century monasteries.  While one can see in the pictures which I have clicked of Vang Vieng, which is surrounded by mountains, lakes, birds chirping, greenery, and nice weather. My eyes can't get enough of such a beautiful scene. There was no hotel, but a cheap guest House was there which was charging around 4-5 dollars means 150 Thai Baht for a night stay.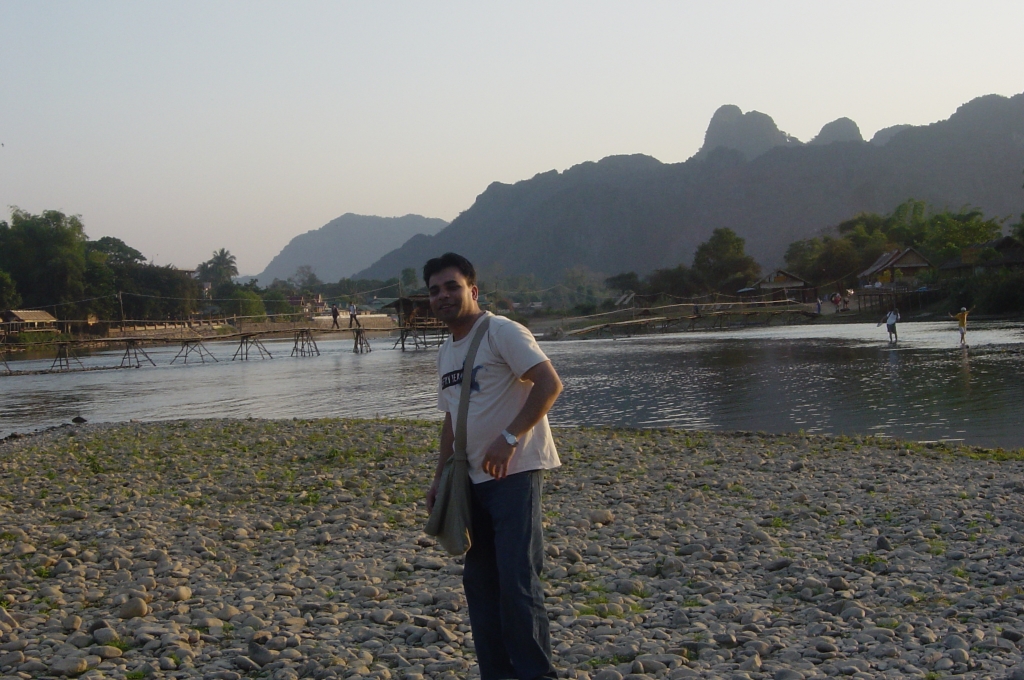 I remember that when I sat on the bus, I met two people who were from Singapore and were also traveling to Vang Vieng, we started talking to each other and clicked photos of us and we became friends. So finally, we reach Vang Vieng and booked a guest house for us while it was almost 3 to 4 pm the day. I remember we all had our lunch on the way of traveling in between a stop. So, I took a rest for a couple of hours and I tell you in the evening the view was awesome at this place.
Which includes a lovely lake, mountains, lightning, and many more. My two friends whom I met on the bus ask me to join them to walk into the village, kind of exploring the place. I agreed to that and was happy as well as I got nice company to explore this place and enjoy the fun stuff with them. With those two guys, one person's mother was also there, so a total of four people was there together.
In the evening time, we all started walking towards the village place. It has so much natural beauty, tons of bars and restaurants plus accommodations to fit every budget, Vang Vieng is a town well worth a few days of outdoor fun on any itinerary of Laos I can say. While walking through the rice paddies, simply over the toll bridge, at one end of the village, the bustle of the bar view gives way to rice fields, cow pastures, including bamboo huts. Walking through the immersed rice fields is a meditative experience. Be on the lookout for large snails, dragonflies, frogs, also fish that name the rice paddies home.
With the blue sky plus mountainous backdrop, you'd be hard-pressed to find a place more displayable of Laos. It gives a natural good vibe to me and damns lovely it was far away from hustle and bustle of metropolitan cities. I was enjoying peace of mind over here and did interaction with local people and kids. One can see the picture of it on my blog page, it was a funny photo with the kids they were wearing no clothes as they were so excited to get a click.
Villagers were happy in their small little world and I can feel that. Further, we roam around the place for a couple of hours and suddenly I saw an Indian restaurant and gave a thought that there is no place where I cannot get Indian people, they visit everywhere. So, I ask them all to do Indian dinner as among them one was Indian only and he too likes it. We went inside to have our dinner, food was delicious and there was a local person selling lottery tickets, in short, such type of atmosphere was there. Even the seats were made up of bamboo and so fascinating and nice to experience this also. I have clicked the photos as well and almost half of the day spent like this and the next morning, I must catch a bus for Luang Prabang, I enjoyed the Vang Vieng trip so much. Thank you!

























This was my first visit in Laos. I met these travelers in Vang Vieng and had Indian dinner all together.