27th December 2004 / I traveled to Vientiane, Laos for the first time in Dec'2004. I spent my new year holidays in Laos. Travel to Vientiane was very memorable.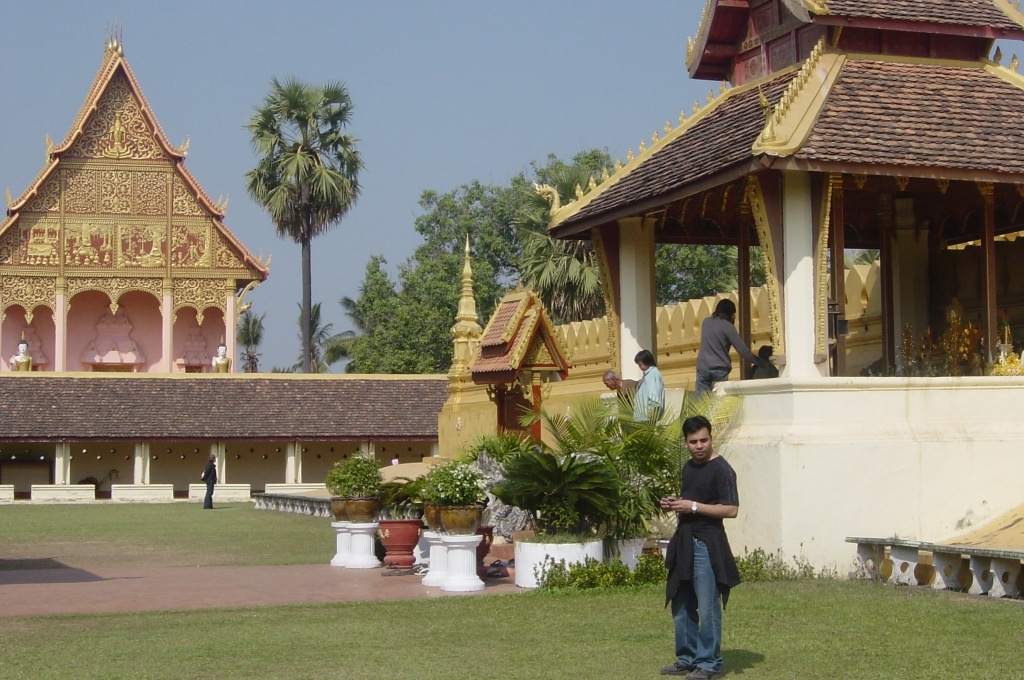 My Walking Story :
Today I am going to describe my last trip which was to Vientiane and it was on my plan list after I left Luang Prabang. It took my whole day to visit Vientiane from Luang Prabang like I catch the bus in the morning at 9 am from Luang Prabang and reach at around 5 pm Vientiane.
I remember that I haven't booked any hotel at Vientiane, so while roaming and checking out the guest house I finally got one and straightway I went to sleep for two to three hours and after that, I had my dinner and I didn't go anywhere at night time. I just went to sleep again after having my dinner, the next morning I woke up and I was feeling more energetic and active to explore the famous places of Vientiane.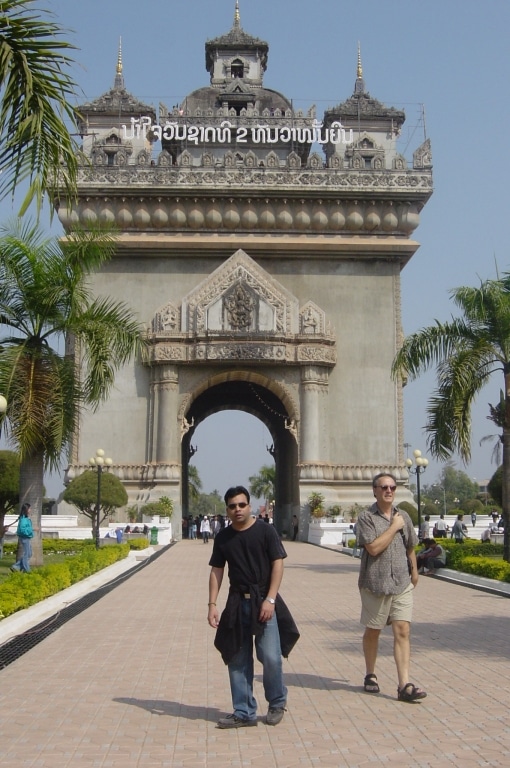 This picture was taken in Dec 2004. 14 years old memory in Vientiane (Capital of Laos). This place is called Patuxai. A war monument in the center of Vientiane, Laos, was built between 1957 and 1968.
As Vientiane is recognized for its laidback environment plus it's true that life flows slowly here, attracting those who appreciate a peaceful, relaxed vibe. Traversing centuries-old Buddhist temples is one of the most famous things to do in the Lao capital, which you can do on foot, bicycle, or tuk-tuk. one will not find jams, the horn sounds that are tangled, or screams of drivers. while Vientiane has a relaxed plus serene vibe to it also one will find several attractions here that make it an excellent place to consume a few days before one heads off to other spots around the country. furthermore, Laos used to be a previous French colony moreover with that in mind one can verify out several French-themed buildings including attractions that seem somewhat at odds with the otherwise leafy plus fascinating surroundings that make up this capital city.
I had my morning breakfast and then I got ready to step out in order to explore the maximum places of Vientiane, so first I visited the Patuxai Victory Monument, which is one of the best-known memorials in Vientiane plus was designed to match the Arc de Triomphe in Paris. It is nevertheless also carved with representations of Hindu Gods also has an added five towers which match traditional Laotian buildings making this something of an East meets West kind of charm. The masterpiece is part of the broader Patuxai Park also this is a fabulous spot to come if you want to go for a peaceful walk at sunset. one can also take in the pictures across Vientiane from the top of the Patuxai Victory Monument both by climbing a bearing of stairs to the viewing platform or utilizing an elevator. I had clicked the pictures of it one can check on my blog page. I spend like a couple of hours over there. I tried snacks while roaming here and there, also did interaction with the local people. Which help me to more about the place.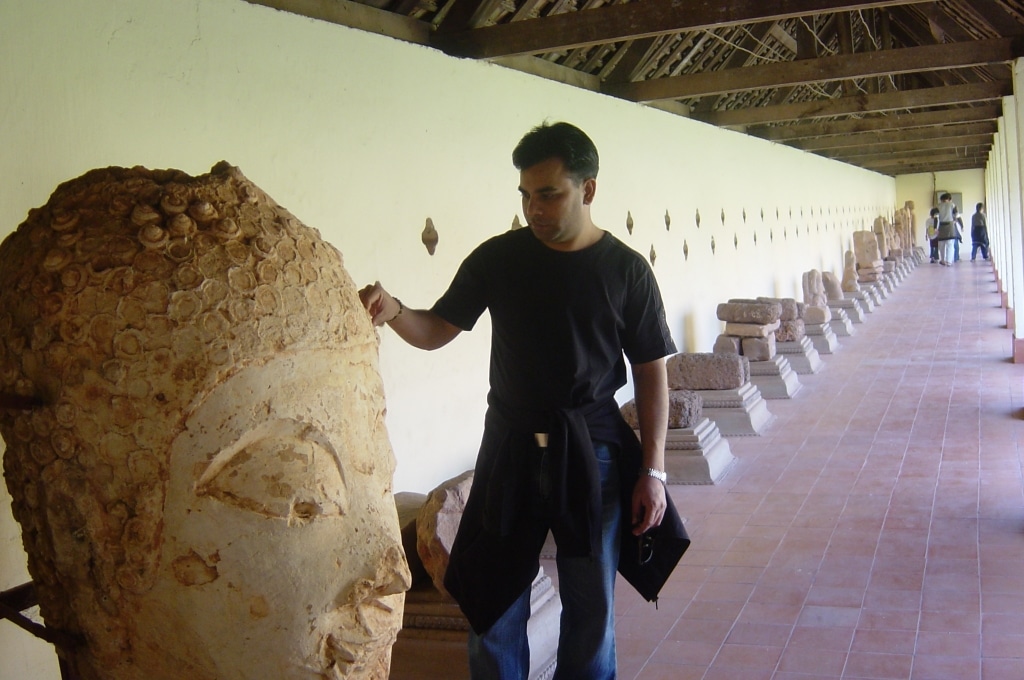 Further, I went to explore The Pha That Luang which was my next destination. I went over there in the afternoon time; it was an amazing place to look after and spend time and clicked a few pictures one can see it on my blog page. That Luang is also named the Vientiane Great Stupa also has the title to fame of being the most divine temple in all of Laos as well as one of the most scenic. The stupa records from the 16th century also is a huge complex that highlights the central stupa covered in gold leaf which rises to a height of 148 feet.
This is then circled by pretty towers in the typical Laotian style including the whole complex is around four kilometers outside of the center of Vientiane, so it offers a fabulous place to visit as part of a day trip. I spend an hour over this place and then it becomes my lunchtime, so I went to a restaurant nearby place and had my lunch which was delicious.  Moreover, I went to explore a few more temples that were near to my location, I also explore the local market where I check the clock shop of the Rado brand. Likewise, it was evening time and I went into a coffee shop and then got to heard about the night market and went there to see. Vientiane Night Market is placed along the scenic waterfront in the city.
The market regularly gets going around sunset plus one can come here to purchase a range of items like clothes, textiles, accessories, handicrafts, paintings, including myriad souvenirs. In addition to the present market stalls, I also find a wide range of street food stalls here where I can snack on some traditional Laotian snacks like barbecued meats, making this one of the most affordable places in Vientiane to eat in the evenings.
Then it was my dinner time, so I check the nearest restaurant on google and got one nice option. I went to have my dinner, currently, I didn't remember the name of the restaurant, but the food was tasty which includes meat and rice kind of fried rice and drink. And it was my last day at Vientiane, so try to utilize maximum time. I spent an awesome time over here and local people were also helpful, while memorial places including the main temples were fabulously constructed and appreciable. I must catch the bus to Bangkok at night, so after done with dinner and spending time at the restaurant I went to catch my bus and return to Bangkok, so this was the end of my story. Thank you!